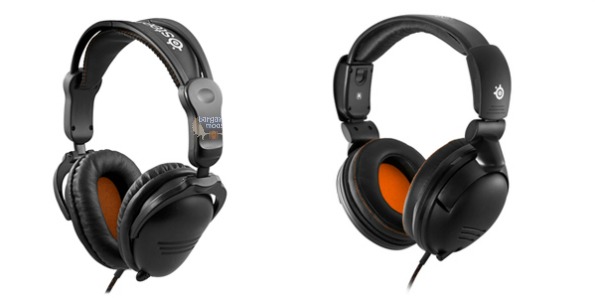 *** BUMP - the 3HV2 is now down to only $14 & free shipping @ NCIX! ***
Still looking for a killer headset at an inexpensive price? Check out NCIX's deal today on the Steelseries 3HV2 noise reduction headphones with retractable mic that was $49.99 and now $19.99only $14. If you want to go one step up, they've got the Steelseries 5HV3headset hi-fi headphones with retractable mic on sale too, with a regular price of $79.99 and now $49.99. So you can buy the cheaper pair for only $20 or pay the regular price for the cheaper pair for the better set. You'll also get free express shipping on either item.
I have to be honest here - I know nothing about headphones. I remember the days of headsets like these and listening to New Kids on the Block on my walkman at recess. Then everyone was all about the teeny headphones that go inside your ears, but now this style is back, as it delivers better sound quality and I've got to think it is more comfortable in ways. Also, it does block out the external noise like your mom yelling at you to do your homework.
Made from all-leather, these are extra-padded so they are comfortable to wear all day. They fold up so you can take them wherever and they have a retractable microphone so you can be heard crystal clear.
What the second set has that the first doesn't is a more "powerful and detailed audio experience", with tournament grade audio drivers. You can dismantle these for taking them places, like to your friends to play games. They are specifically made for gaming, so you'll hear everything in the game with clarity, like footsteps and gunfire.
Reviewers give both headsets four stars out of five. Here is a review of the first headset that you might enjoy:

Of course I shopped around to ensure this was the best price on the market (and it is or I wouldn't be telling you about it). I found the 3Hv2 at NewEgg for $39.99, at Amazon for $43.99 and at The Source for $34.99. The Steelseries 5HV3 I found at Amazon and BestBuy for $79.99, and at Frontier PC for $116.98!
(Expiry: 20th May 2015)