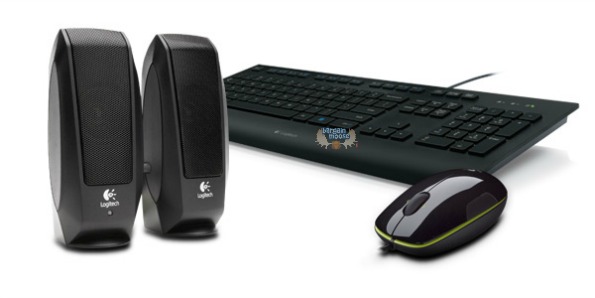 This extreme deal from NCIX may not last long, so don't wait as there are limited quantities. Get the Logitech K280E corded keyboard, LS1 corded laser mouse and the S120 speaker system for only $19.99, with a regular price of $63.96. That's a savings of over $40!
There really is very little info given on this set, but $20 for a mouse, keyboard and speakers is quite a steal! It is also a well-known and trusted brand - Logitech - so you know you aren't getting crap quality. There is even a 5-star review that says:
great speakers are working great for small office.

While that isn't the most comprehensive review I've ever read, it tells you what you want to hear. I'm not a huge fan of corded mice, but for this price, it is well worth it to have this as a backup. Over the break, I took my laptop and mouse with me (work never stops!) but forgot to turn off the mouse. Of course, it wasn't working once I got to my destination as I killed the batteries. Do you think I have triple A batteries stocked up for instances like this? No, never! I would have done well to have a backup just in case it wasn't a battery problem.
Just to give you a little price comparison on how great this deal is, Amazon sells the keyboard alone for $16 from a secondary seller. That is the price I found it on other sites as well. The mouse also sells alone for about $16. Both items are out of stock at most of the places I checked for a price comparison. This tells you how low the stock could be at NCIX and how fast this could sell out.
As for the speaker system, NewEgg sells them for $9.99 plus $5 shipping on sale from $14.99.While the reviews on NewEgg cite some static issues, think about the fact that these probably do well as office speakers and how much will you be kickin' it at the office?
use it in my office to have background music. So the volume is kept low. Not meant to shake me in my chair. I also am not expecting concert hall quality sound. Again its for office. Unobtrusive in size. So fits the bill nicely. Quality of sound is more than acceptable for office environment.
I think that free shipping depends on where you live, but my order got completely free shipping, which was a great bonus!
(Expiry: Limited quantities)