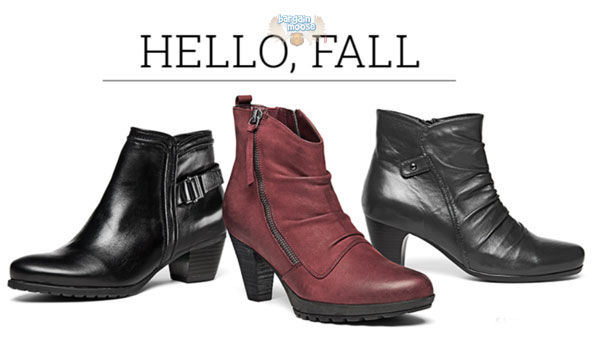 I just blogged about a 30% discount from Robeez on Mini Shoez but it look like great minds think alike because I have also unearthed another deal on shoes but this time for adults! Until Wednesday, you can use the code below to save 30% off everything at Naturalizer.
Click here to shop @ Naturalizer.ca now
Coupon Code: 30FAMILY
Discount: 30% off
Expiry: 15th October 2014
By everything, I do mean e-very-thing! I tried this Naturalizer coupon code on the Naya Naya lark boots on sale for $49.99 (reg. $180) and they further came down to just $34.99, which is essentially 81% off their original price tag of $180. That's an absolutely amazing price to pay for a pair of boots that was originally priced so high, especially since we're smack dab in the middle of the fall season. Plus, they're also made of vegetable tanned leather, which means that they're sure to last you a good long while. They're only available in a 5.5 M size but I chose them to show you just how much you can save if you apply the code above on shoes and boots in the sale section, although the discount percentage does vary. Just keep in mind that sizes are very limited.
You can also save on plenty of handbags that are already on sale. The Naturalizer teatime handbag immediately caught my attention because of its elegant style and I was even more surprised to discover that since it's already on sale for $119.99 (reg. $150), it came down even more to just $83.99 at checkout. Although it has a faux leather exterior, it looks like it could complement any outfit. In fact, I have a very similar handbag to this one and for the longest time, it was my favourite go-to bag because I could take it to a restaurant, just like I could go run errands at Walmart! :P
You can also take this opportunity to get a discount on regularly-priced shoes and boots as there is nothing worse than falling in love with a pair from the newly arrived section. In fact, I am extremely tempted to get the Naturalizer Jacinda tall boots as they are made of leather and according to the description, are "winterized" as well as waterproof. Even better is that since they're $230, they would come down to just $161!
Shipping is $5 for the first item and $2 per additional item that you get. For more Naturalizer coupon codes, be sure to keep an eye on our forum as these are always added as soon as they are made available.