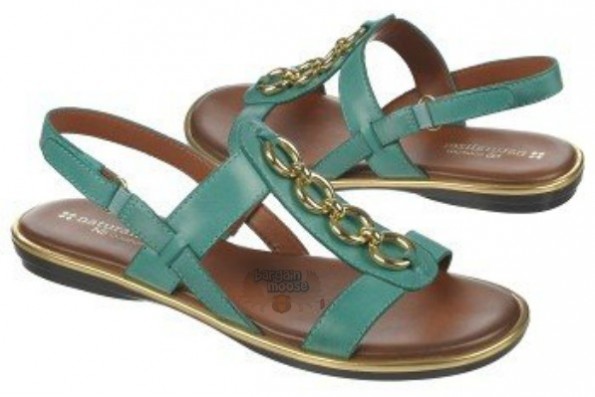 It's only July, meaning that here in the great white north we are still celebrating the joys of summer for another couple of months.  With all that time spent making your feet look summer-perfect, why not treat yourself to a great new pair of summer sandals with this deal from Naturalizer.ca:  Harrison sandals (regularly $110, now only $29.99) for 70% off!
I'm starting to get tired of my summer footwear already.  I've been wearing the same pair of ballet flats and flip flops most days and they're starting to look a little sad.  I think it's fair to say that my shoe collection could use a little update.  This sale from Naturalizer.ca, offering up to 70% off sale items, is a great way to update that summer footwear wardrobe for a great price.
The Harrison Sandals are a lovely turquoise colour with gold metal detailing, fitting perfectly with a bright, breezy summer wardrobe.  They offer an adjustable heel sling strap, smooth lining, cushioning insole, so slip outside and 1.9cm heel.  The gold chain detailing on the leather upper part of the shoe really adds a nice touch.  These shoes are pretty enough to feel great in and also comfortable enough to wear all day even if you're on your feet.
Harrison sandals are also available in Ivory, Black, and Caravan Sand (a tan – beige colour) at the same great price.
There are a bunch of great deals I found on the Naturalizer.ca summer sale, some of which could even get you through the fall.  There is still a great selection available in many sizes.  If you are crazy about ballet flats like I am, be sure to check out the 70% off Bromstad Ursela flats (was $90, now only $27) which are gloriously pink and shiny.  Blaine (was $110, now only $49.99) is a stunning peep toe high heel pump that comes either in black leather or onyx leather with snake print detail.  Quite the shoe for a hot night on the town!
Shipping costs within Canada are $5 for the first item and $2 for each additional item in the order.
Naturalizer's summer sale offers up to 70% off sale items now until September 1st, don't miss out on this great opportunity to save!