All the Best National Lipstick Day Deals in Canada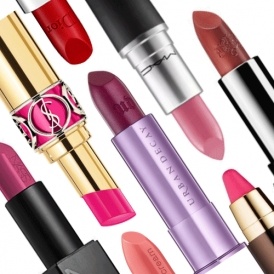 National Lipstick Day is here! This year, the big day falls on Sunday, July 29 – so mark it on the calendar and clear your schedule.
This is when you can get a free MAC lipstick, but there are a few other sales worth knowing about in Canada, too. So to make our own shopping (and yours) a little easier, we put together a list of the best National Lipstick Day sales for 2018 – so we won't miss any.
And while it might seem a little silly to have an entire day dedicated to celebrating lipstick, it's worth it just to score these deals.
1. MAC Cosmetics
Deal: FREE lipstick (no purchase required in stores; with $30 online)
This is the big one and the reason most people get excited for National Lipstick Day. On Sunday, MAC Cosmetics is giving away FREE lipsticks! Here's how it works: you can pick up your freebie in-store (no purchase necessary) or have one added to your cart when you spend at least $30 online.
Personally, I want to beat the lines, so I'm going to shop online. Besides, as an added bonus, the MAC x Aaliyah collection is 30% off today only, too (online and in-store)!
2. Sephora
Deal: 25% off select lip collections (in-store and online)

If you're a Beauty Insider, check your inbox! You probably have a save-the-date email in there from Sephora Canada about this year's National Lipstick Day promo. While it doesn't give too much away, one thing is clear: select lip collections will be 25% off in stores and online! Here are all the lipsticks included in this year's sale.
Can't wait until then? Don't worry. This week, full-size Anastasia Beverly Hills Lipsticks are on sale for buy one, get one FREE – which means you get two from only $21.
3. Hudson's Bay
Deal: 10% off lip colour with code PUCKERUP (online)
Here's one store I didn't know was taking part in National Lipstick Day: The Bay. The in-store details are a little vague, but you can stop in to any participating store to try on new summer shades, get a free touchup and learn how to do some of the latest lip looks.
The deals get really good online, though, because all day long, you get 10% off any lip colour purchase when you use the code PUCKERUP at checkout.
4. Urban Decay
Deal: BOGO FREE Vice Lipsticks with code LIPDAY (online)
They waited until the last minute to announce this one, but Urban Decay Canada is jumping in on the National Lipstick Day action, too. For one day only, you can use the code LIPDAY at checkout for buy one, get one FREE Vice Lipsticks.
The deal excludes Vice Liquid Lipstick and Vice Special Effects, but don't worry. If you're really after a liquid lippie, Vice Liquid Lipsticks are half-price and down to $12 from $24!
5. Clinique
Deal: FREE full-size lipstick with any purchase (online)
Here's one I just found out about today. On Sunday only, Clinique Canada is giving away a FREE full-size Clinique Pop lipstick with every single online purchase! All you need to do is enter the code LOVEPOP when you check out, and you'll see a lipstick (in the shade Love Pop, of course) added to your cart.
6. Lancôme
Deal: 25% off all lip products (online)
I'm really happy I checked my email this morning, because I think I might have missed this deal from Lancôme otherwise. They're not really advertising it much on their website, but almost all lip products are 25% off today only! No code is needed, and this deal is applied at checkout.
6. Smashbox
Deal: $5 off any lip product + lip bag with code KISSME (online)
This one is a lot of little deals rolled into one – but they really pay off. I'm getting pretty addicted to Smashbox lipsticks lately, so I might pop by their site first. After all, until Monday, you can get $5 off a lip purchase and a free lipstick bag when you use the code KISSME.
That's not all, though. Smashbox also picked today to release four brand-new, metallic shades of their Be Legendary Liquid Lip – so get shopping!
7. NYX Cosmetics
Deal: B2G1 FREE lippies with code YAYLIPPIES (online)
If you want to shop online today, this might just be the most affordable option on this list. All day long, NYX Cosmetics has lip products on sale for buy two, get one FREE when you enter the promo code YAYLIPPIES at checkout.