**BUMP: These cute dolls are back on sale again! The price isn't as hot as last time—but they sure sold out fast before.
Amazon has these fun (and cute) dolls on sale from $8.56, which is up to 43% off the regular price. Amazon Prime members will even get free shipping.
Here are the Sew Your Own My Best Friend Dolls available on sale at Amazon.ca right now:
Red Head - $8.56
Blonde - $11.53
Brunette - $12.95
Dark Hair - $12.95
These DIY dolls sell for $12.95+ at other Canadian retailers. They would make great birthday gifts too if your little one has some birthday parties to attend in the near future. For this price, you are getting quite a bit of goods inside the box as well as a chance to bond with your little one some more.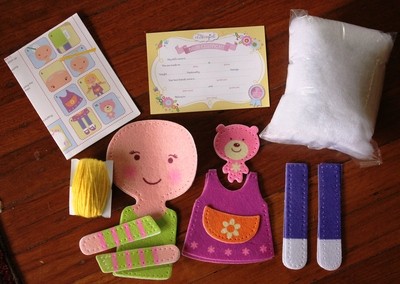 This set includes everything you need to sew a cute little doll like pictured above. That means you will get 17 felt pieces, 2 packs of wool hair, 2 spools of thread, 3 velcro squares, 2 needles, a birth certificate, stuffing, a tag and even some ribbon. I think it would be a lot of fun to teach your little girl how to sew this way - and then she would have a doll that she made on her own.
Amazon.ca offers free shipping on orders over $25 but Amazon Prime members will get free shipping.
(Expiry: Unknown)