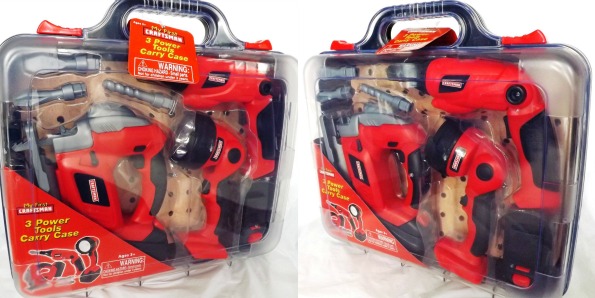 Sears Canada is known for one of the best and most affordable tool lines in Canada: Craftsman. A love for tools starts young, so pick up this MY FIRST CRAFTSMAN/MD 3-Piece Power Tool Set And Carry Case from Sears Canada. Originally $34.99, the set is now on sale for $26.24. Use coupon code941612464 for an extra $10 off, bringing this set of play tools down to $16.24. Sears Canada offers free shipping to over 1300 Sears Stores and Sears Outlet locations.
Do you have a little handyman in the making? Given them the play tools they need to get the imaginary job done. This set comes with a vibrating laser jigsaw, a light-up drill, and a swivel-head flashlight. All three of these tools store away neatly in the included tool case. These tools are designed to simulate the 'adult' versions of these tools. One reviewer said:
My son loved this Christmas Present. The tools were very "real" and he loves building things like Daddy!!!

The power drill comes with three interchangeable bits that your child can take off and put on. It also has a simulated light so your child can see their work area. The vibrating jigsaw has both an LED light and a simulated laser guide.
The flashlight is a real gem as it functions as a working flashlight with a pivoting head. Each piece uses two AA batteries, for a total of 6 batteries needed (not included). This is the only downside to really cool sets like these, but the problem can easily be fixed with a cache of rechargeable batteries.
This tool play set cannot be price compared as it is exclusive to Sears Canada. However, I did check out the price at Amazon.com where it retails for over $40 USD - ouch. I am so glad we can get it here in Canada for much less. In fact, I think this is a killer price for a set with so many pieces and functions. As Craftsman is a household name, I am sure your budding builder will enjoy receiving something like this for Christmas.
(Expiry: Unknown)