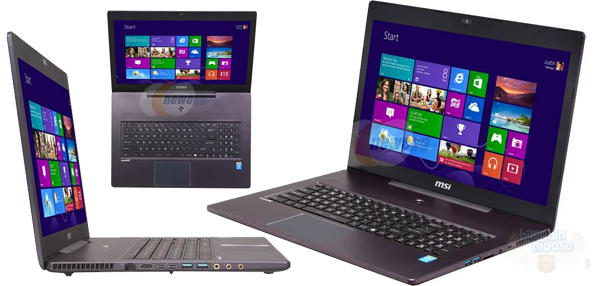 We recently got word in an email from Newegg.ca that they will be offering a pretty hot deal on an MSI gaming laptop for the Black Friday weekend. The MSI GS70 2OD-229US Intel Core i7 4700HQ notebook is currently priced at $1600 plus $10 shipping – that's an OK price for the notebook, but the clincher is that you get a free 50" LED LDTV!
When Newegg first emailed me, the price on this MSI notebook was due to be $159.99 (!) – Shawn spotted the deal and we thought it was amazing! But an email to Newegg confirmed that was sadly a typo.
A quick note on the specification of the notebook:
Intel Core i7 4700HQ(2.40GHz)
12GB Memory 500GB HDD 128GB SSD
NVIDIA GeForce GTX 765M
1920 x 1080
Windows 8
They're classifying this as a gaming laptop, so if that's what you are looking for, then consider this deal. I showed the spec to my other half and he was quite impressed.
We asked Newegg for more info on the TV itself but they weren't able to give a lot - this is all they said, "It's a 50" LED 1080p HDTV." Even for a non-branded 50" TV like that, you'd be talking about at least $600, so it's quite a good free gift with purchase. UPDATE - the brand is Changhong.
We have no ideas of the quantities that are going to be available of this MSI laptop and TV combo bundle, so if you are interested, buy it when you can.
(Expiry: 1st December 2013)
UPDATE: Newegg Ultimate Black Friday Sale: 24 Hours Only
I'm adding this information on to this post, as I have only just received it. Newegg launched an Ultimate Black Friday sale, for 24 hours only over Black Friday.
Click here to shop the ultimate Black Friday sale @ Newegg.ca
I'm sorry for the lack of detail here, but I am just going to run down some of the highlights:
I've only picked out a few of the bargains, browse the site for more.