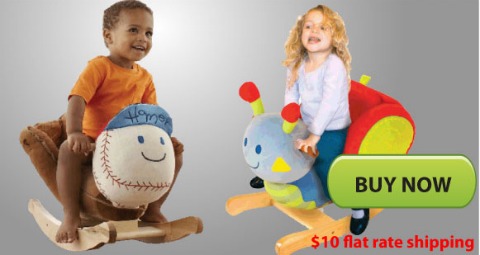 Until 1 April 2011, Mother of a Sale is featuring RockABye Baby Rockers for $60-80 (reg. $99.99 - $129.99).  Kids are going to love these fun rockers!
These high quality rockers are made in the USA and are built to last! There are 11 styles to choose from for boys and girls. They are easy to care for as they are sponge washable. The rockers are made for kids ages 9 months and up and can be used by children weighing up to 80 pounds. They come in a box that is 24"L x 12"W x 17"H, so the actual size of the rockers is slightly smaller. Each rocker has buttons that when activated, play 4 educational songs.
I love this Princess Carriage for $80 (reg. $129.99). Little girls can ride in their own carriage and the horse even comes off  for play! My favourite boys rocker is this Homer Baseball for $70 (reg. $119.99). The seat of the rocker is a giant baseball mitt!
I think these adorable rockers would make great first birthday presents!
Shipping is a flat rate of $10!
(Expires 1 April 2011)