More Boxing Day Sales Info Rolling In for 2012!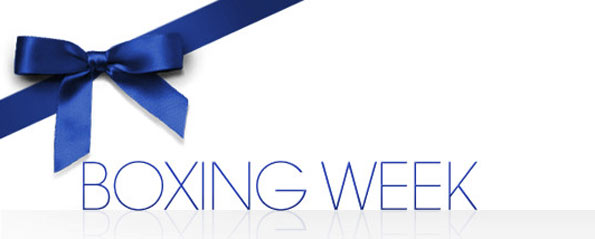 Over on our fantastic Boxing Day sales dashboard for 2012 shopping events, we're seeing more and more information come rolling in on an hourly basis!! Since I last did a little update about the offers, a ton more info has been obtained, and here are some highlights which might be of interest to you:
Boxing Day Flyers & Sale info:
Boxing Day deals you can get right now:
Some advance info available:
Boxing Day coupons:
We're even amalgamating all the special Boxing Day sales coupons and printable coupons here. There are too many to mention, but scroll down and you can see the top deals from the likes of Toys R Us, eLuxe, Symantec, 1800 Flowers, Beyond the Rack and Kiehls.
And that's not even a fifth of the Boxing Day sale information we've found!
Remember, things are really heating up for Boxing Day 2012 for shoppers across Canada, so check back on the dashboard a few times a day. You'll be able to see all the deals and keep an eye out for your favourite retailers. Also, feel free to share the link to the Boxing dashboard with your friends!