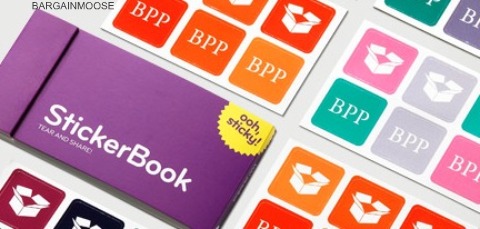 Moo.com is a US company but because we like them so much (Anna adores them... I think she wanted to write this post), we post about them once in a while. One time I posted a deal for Moo.com we received the following comment from Mooser Cathleen:
Unfortunately, moo USA doesn't seem to make the stickers – you have to get those from the European site. So… no sale on stickers, I guess? Too bad – they're my favourite! I'd go crazy if they had a 30% off sale on the stickers.
Well, to all the Moo sticker lovers I have news: Moo USA makes stickers, and they are 35% off!
Discount: 35% off sticker books
Coupon Code:

PEFC7Q

Expires:

31, October 2010
Their sticker books are cool, rad, beautiful and all things one could ask for in grown-up stickers. Get ready for the holidays which the perfect sticker designed by you to personalize all your gifts. Or, maybe just get some business stickers that you have been longing to get for a while. For 90 Moo stickers it is only $9.99 US or $6.99 with the coupon, plus shipping. Get better prices with bigger sticker books.