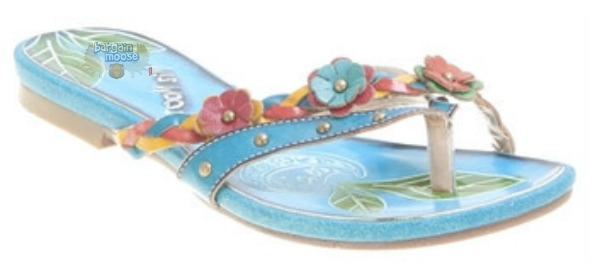 I found these gorgeous Miz Mooz sandals that will take you to the beach and the pool in style, now $40 off. Originally $90, they are now $49.99.
These sandals are so pretty, they undoubtedly will have people swooning and asking where you got them. With a leather upper, they showcase a braided cross top and tiny flowers as accents. I love that the sole has a floral design as well, so the shoes look just as good off as they do on. The blue and the pink are both still in stock, while sadly, the green and yellow are out of stock. This tells me this is a popular shoe.
Miz Mooz is having a spring/summer sale right now with up to 50% off select styles, which is where I found the Flora sandals. However, they have tons of other styles available for your footwear pleasure.
TheseMonettes immediately caught my eye with the fun flourishes they boast. Suede and leather with a chunky three inch rubber heel, they have a padded footbed for the ultimate in comfort. The salmon is definitely very showy and the sky is more laid-back. Which will you choose? These were originally $140, now $99.99.
While I can't really think about putting on boots right now, they do go well on a night out, or I could shop ahead as summer will be gone as fast as it arrived. These sable boots are incredibly hot and the khaki has me drooling. They are knee-high with an elastic gusset, which means that even those with slightly thicker calves can fit into them. I think this is awesome, as even though I have well-toned and not-large calves, sometimes I have trouble zipping up my boots. I have to wonder if they are made for children sometimes. Having the elastic lets me get away without that tell-tale not quite zipped up look! These are a steal now for only $144.99, with a regular price of $295.
Shipping is $10 on your first pair and $5 on each subsequent pair of footwear you buy. Considering the savings, I don't think this is too harsh, although I'd love to see a free shipping code from them in the future!
(Expiry: unknown)