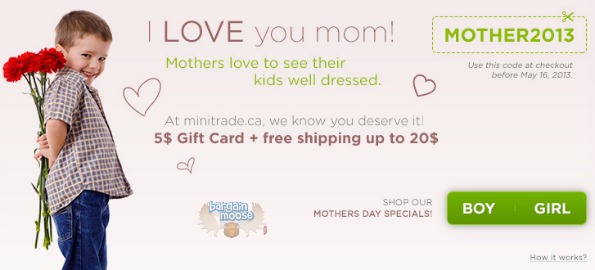 Minitrade Canada is offering you $5 off your purchase of $20 or more, in honour of Mother's Day this week.
Click here to shop @ Minitrade.ca right now
Coupon Code: MOTHER2013
Discount: $5 Off and Free Shipping
Expiry: 16th May 2013
Minitrade is the epitome of reuse, reduce, recycle, where you can sell your gently-used clothing and buy used clothing for your family. It is like consignment gone wild, where you can easily buy online, get your items picked up from your home and have the items you buy shipped directly to you. This sounds like the definition of easy!
Right now, you'll get $5 off when you spend $20 and free shipping, with promo code. There is nothing I like better than free shipping. Normally, you'd get free shipping when you spend $50, so this allows you to buy a select few items and spend only $15 total! This means you have absolutely nothing to lose when you buy your used items from Mini Trade.
I found the selection limited as the sizes went up, but I think the basic reason for that is that kids are way harder on their clothing the older they get. My oldest son wears through all of his knees within a month and his t-shirts are usually stained and unwearable not long after that. I could never sell his clothing. On the other hand, all of his 5T and lower clothing was in good enough condition to pass down to his two younger brothers and even sometimes be sold after that.
But, if you have an infant or baby to buy for, this site will definitely have something for you, at great prices too.
Check the Bargainmoose forum for more great Minitrade Canada coupon codes.