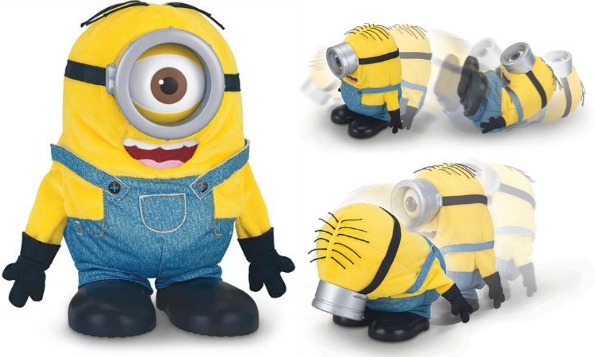 This Minions Tumbling' Stuart Figure might just find its way under every Christmas tree this year with a deal like this. Originally $64.99, the Minions Tumbling' Stuart Figure is on sale for just $23.87. Top up your cart to $25 for free shipping or enjoy free shipping with an Amazon Prime account.
The second I saw this cool toy at such a hot price, I just knew I had to blog it. Tumbling Stuart talks, laughs, tumbles, and gets back up. I expected him to be made of plastic, but he actually has a soft plush body that is quite huggable. Only the eyes, goggle, and feet are made of plastic.
His voice is the original voice with SFX so your child can hear the character they all know and love. he has talking and talk-back features to further enhance play time. One reviewer at Toys R Us said:
This minion is wonderful - so entertaining and makes you laugh over and over. Just as enjoyable for adults as for children. We loved it so much we bought two more to give to family!
Now, you have to price compare everything to make sure it is a great deal. I found the same tumbling Stuart toy at Walmart for $59.97 and currently on sale at Toys R Us from $64.99 down to $49.97. I also noticed that Eva mentioned this toy in a composite Minions toy post a few weeks ago. At that time he cost $39.68 at Amazon.
Because this is such a huge price drop and this is the lowest price this toy has ever been, I just had to single this little guy out and bring him to your attention. He is SUCH a cute little thing and will be plenty of fun for your kids.
Most people do not have Amazon Prime, so I took the time to pick out a few add-ons you can stick in your cart to reach free shipping. The best thing to add on is a book, like one of these books for only $2:
There are tons of these little books for only $2 that are perfect for topping up any cart that is just under the $25 threshold.
(Expiry: Unknown)