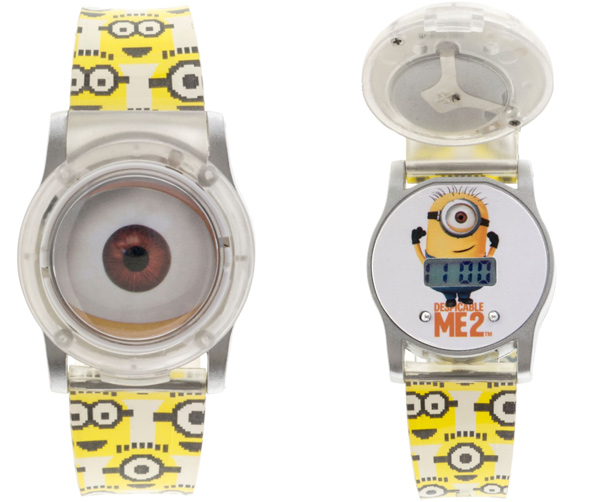 ** This watch is back in stock and on sale until midnight tomorrow! **
Teach your children to tell time with this awesome Minions Despicable Me LCD Kids Watch with Light Up Flip Top. Originally $16.99, the watch is now on sale for $11.89. Sears Canada currently offers free shipping to over 1300 Sears Stores and Sears Outlet locations.
This watch will please any Despicable Me or Minions fan. The Minions graphic covers the entire silicone watch strap and there is a minion on the face of the watch. The light-up flip top case has a large Minion eyeball graphic that you simply press to light up the watch. Flip the cover up and the time - digital - is revealed below. This is authentic Despicable Me / Minions merchandise, not a knock-off from China.
Designed for little wrists, this child-size watch with easy to read digital display will be perfect for keeping your child on time in style. The bucket closure on the back si easy for little hands to manoeuvre and the silicone strap is comfortable as well. This watch is not designed to be used under water so make sure the watch is removed before washing hands or going to play in the rain.
While I could not find this watch anywhere else, I did check out Minion watches in general. The cheapest Minion themed watch on Amazon Canada still costs $20.99. Walmart has one Minions-themed watch for $12.95 (does not light up) and another for $15.96 (also does not light up). Avon produces a Minions-themed watch for $14.99. Given that there were simply no cheaper Minions-themed watches that I could find in Canada, I figured this was a pretty nice deal.
As this watch is small (think child-sized), it would make a fantastic addition to your child's stocking come this Christmas. I know many families that keep their Christmas stocking items on the really cheap side (a couple dollars), and then toss in one more expensive stocking stuffer as a special surprise. I like this idea and it really gives kids something to look forward to on Christmas morning (besides all their other gifts).
(Expiry: 16th December 2015)