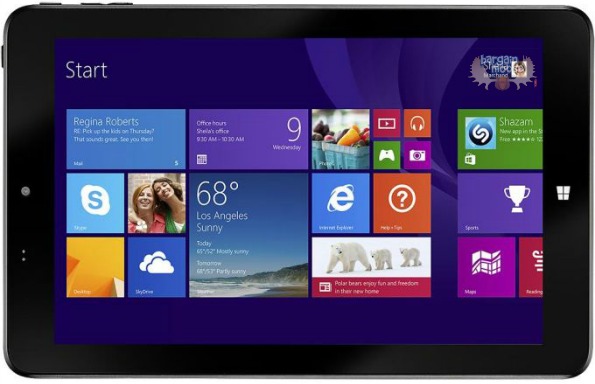 The Microsoft Store has one doozy of a deal, if you need a new tablet. The HP Stream 7 was $119 and is now only $99. On top of that, you will receive a free $25 gift card, a free screen protector, and a free case. Not only that, Office 365 Personal is included with the tablet. This tablet and all accessories will also receive free shipping.
If I did not just spend a fortune on shoes this last week, I would be buying this tablet. I seriously cannot think of a better deal on a brand name tablet right now.
Let is just consider this offer for a second in terms of savings.
VALUE:
Tablet - $119
Free Case - $30
Screen protector - $10
Gift Card - $25
Office 365 Personal - $69
This bundle has a total value of $253! When you pay only $99 for the entire thing, you are essentially saving $154 over what each item would normally cost if you had to pay for them individually. You can now see why this is such a hot deal.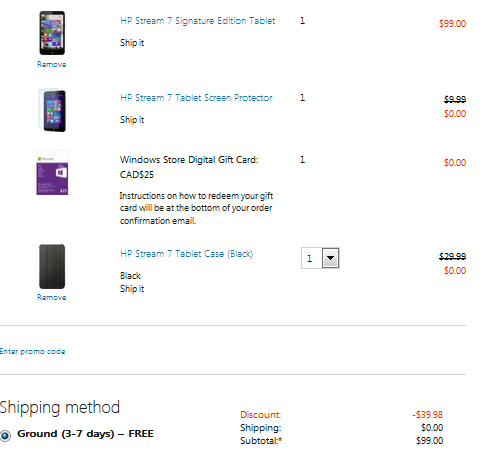 This tablet has a 7-inch (177.8-millimeter) HD touchscreen with an Intel Atom Z3735G processor. While there is only 1 GB of internal memory, you can easily expand that up to 32 GB with an external memory card. The HP tablets provide up to eight hours of battery life, and maybe longer, depending on what you use them for.
This reviewer sums up what many people think:
Best affordable tablet you can buy. This is much better than anything with android on it for the same price.. I cannot believe how much better these devices have become over the last two years.
While there may be a few dissenters, the overwhelming number of reviews are positive on Microsoft for a solid 4.1/5 star rating with over 300 reviews. In fact, 213 of those reviews are for a complete 5/5 star rating.
The odd commenter mentioned issues with the Wi-Fi, but others said that it must be their home Wi-Fi network having problems because this machine connects with no problem.
The reviewers also stressed having reasonable expectations. At this price, the tablet is not going to perform the same as a $600 tablet. You need to have reasonable expectations. What you do get is a good performing tablet with pretty good speed and a boatload of accessories for $100.
I am stoked about this deal and I hope you are too. If you buy one, please let me know!
(Expiry: 25th March 2015)