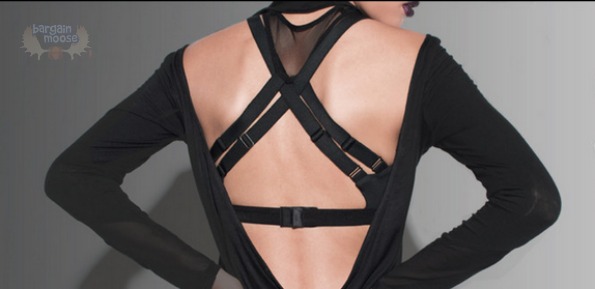 I am a huge fan of Michi NY's style and I nearly die every time I visit their online store. Right now, they are sporting a huge Black Friday sale with deals on swimwear and lingerie inspired athletic wear. The Helix bra was $169, and is now on sale for just $69.
As this bra is a soft cup with adjustable straps, it will fit a range of sizes. The size chart for this bra (changes depending on bra) translates to the following bra sizes:
S = 32A/B
M = 34A/B/C
L = 36C/D/DD
The fabric has plenty of stretch. The main appeal of this bra is that back - it features sexy dominatrix like straps and mesh accents. I LOVE the back of this sports bra. Funny enough, I am in the market for a sports bra and at a 36DD/E, I might just fit into their size large if there is enough stretch.
This salehas countless other incredible deals that I would be negligent not to mention.
I have been drooling over the Helix bra for some time so I think it is finally time to buy it. I also really want one of Michi's swimsuits but they are not in my budget right now. I am totally drooling over this Thunderball Bathing Suit - Black that was priced at $250 and is now $125. What I do need is a pair of swimming bottoms to match a top I already have. Thus, I will be deciding between the Abyss and the Splice bottoms, as they are both excellent deals.
While MICHI NY is a Canadian company and thus ships from within Canada and charges tax at checkout, all prices are in US Dollars. I stuck the bra and a pair of bottoms in my cart to check what shipping was going to cost. For me, it was only $8.95. This seems to be their flat rate.
(Expiry: 1st December 2014 @ 9AM EST)