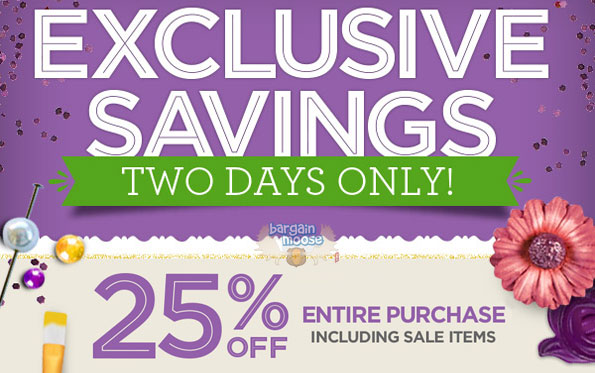 Whether you're a veteran shopper of Michaels or a newbie, here's a promotion you definitely won't want to miss: for the next two days only, print the coupon available at the link below to save 25% off everything at a Michaels store near you, including merchandise that is already on sale!
I'm not going to lie; I have never been particularly crafty. Even wrapping gifts is a daunting task on every occasion that requires it. But all of the unique DIY ideas on Pinterest have actually allowed me to develop crafting abilities that I never even knew I was capable of and I have since ventured deeper into baking, crocheting and am now looking into dedicating an entire day to finally turning all of my pins into reality like using a sharpie to draw on mugs.
All this to say that if you have yet to venture into a Michaels, then this is most definitely as good of an opportunity as ever. Although Michaels coupons are made available on a weekly basis, these are for the vast majority redeemable only on regularly priced merchandise. Those that reduce sale items by an additional percentage off are actually quite rare and definitely not to be missed because you just never know how long it will take for the next similar promotion to come around.
Other DIY ideas I have been meaning to fulfill are: music sheet roses, toilet fizzies, and frosted wine glasses. Are there any crafty projects you have been meaning to accomplish? Be sure to share with me in the comments section!
(Expiry: 25th February 2014)