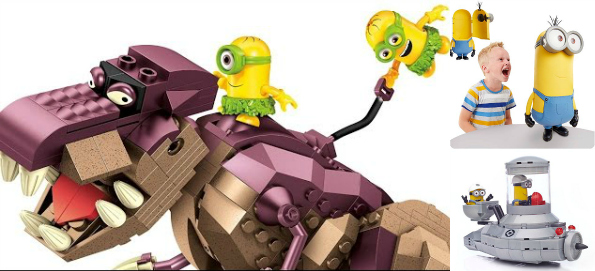 I am always on the lookout for awesome toy deals for some of the most popular deals this year. Few things are more popular than Minions so this Mega Bloks Minions 421-Piece Dino Ride set on sale from $39.99 down to $27.99 is one sweet deal. It becomes even sweeter when you use coupon code941612464, as the Mega Bloks Minions set comes down to $17.99. Sears Canada offers free shipping to over 1300 Sears Stores and Sears Outlet locations, so you could quite easily get this toy shipped near you free of charge.
This set has everything your kid could possibly want: a big dinosaur and two Minions! The buildable tyrannosaurus rex features a tail that moves, legs that you can pose in different ways, and a mouth that opens and closes. Be careful he does not gobble up your little minions!
While most of this large (400+ piece) Mega Bloks set is for building the dinosaur, you also get a couple minions to ride along on him. The minions are also buildable as they come with interchangeable parts and accessories like grass skirts, goggles, and body parts like arms and feet. There is a one-eyed minion and a two-eyed minion that will have tons of fun in this prehistoric world.
This toy is designed for ages five and up. For Minion toy collectors and kids everywhere, this is a fantastic set at a fantastic price. The set is only on sale for this price TODAY - so you will want to place your order ASAP.
If you are in the market for other Minions toys, there are a few others I wanted to mention. This Mega Bloks Minion 194-Piece Despicable Me Mobile was $21.99 and is now on sale for $15.39. It is fun to buy more than one of the Mega Bloks Minion sets as you can interchange parts between them.
This Despicable Me Air Cannon is also a great little toy. Originally $29.99, it is now on sale for $23.99. Remember, any order of $25 or more will qualify for the $10 off $25 coupon code.
Lastly, I must mention the MINIONS 20" Minion Kevin on sale from $49.99 down to $37.49. You could use the $10 off coupon on just him to bring the cost down to $27.49. You can actually store stuff in his head!
All of these toys would make amazing Christmas gifts.
(Expiry: 13th November 2015)