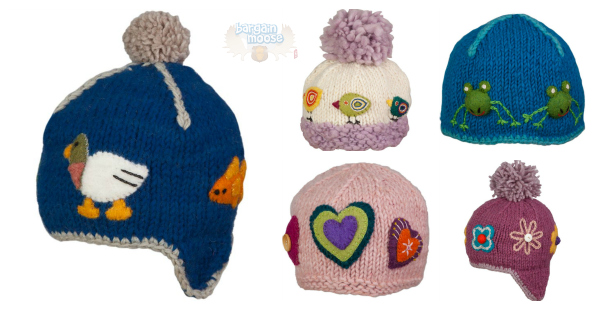 While exploring the clearance section, I ran across these adorable handmade Ambler beanies for children. Originally $25 per beanie, they are now on sale for $9 each. Until end of day today, MEC Canada is also offering free shipping no minimum, this it is a great time to buy these cute little hats.
There is something really special about these Ambler beanies. They are handmade in Nepal in an effort to help give safe, sustainable employment to women workers. These hats are part of the Ambler's Himalayan Collection, which aims to help the women in Nepal learn a skilled trade and create a livelihood to support themselves and their families. Buying Ambler beanies helps empower these women.
There are five beanie styles in this sale.
The Ambler Froggie Beanie is perfect for your amphibian loving kid. Two green frogs rise out of the front of the beanie to create visual interest and a raised profile. The beanie comes in either tomato or azure. I think the azure is the nicest colour as it reminds me of frogs coming out of a pond.
Next, the Ambler Garden Beanie is perfect for the child who loves flowers. With a band of posies around the head, this little beanie is adorable! It also comes with ear flaps to keep your little one warm. Made of wool, the beanie is lined with fleece for extra warmth and comfort. The beanie comes in tropical or amethyst colour combinations.
The Ambler Chickadee Beanie has a gigantic pompom on the top that matches the trim around the bottom. There are different colour chicks all around the hat for a fun and vibrant toque. This toque comes in white or pink and I cannot decide which I like best.
I wish that the Ambler Pond Beanie came in adult sizes because I know someone who would love this beanie. This beanie features four fabulous pond creatures: duck, fish, turtle, and frog. It also comes with ear flaps to keep your child warm with fleece lining. I like the toques with ear flaps best. Choose from blueberry or heather grey/orange.
Lastly, the Ambler Coeur Beanie has all the hearts your little one could desire. With three felted hearts and a button detail, this is one cute hat. The beanie comes in lilac or pink.
Free shipping expires tonight.
(Expiry: Unknown)