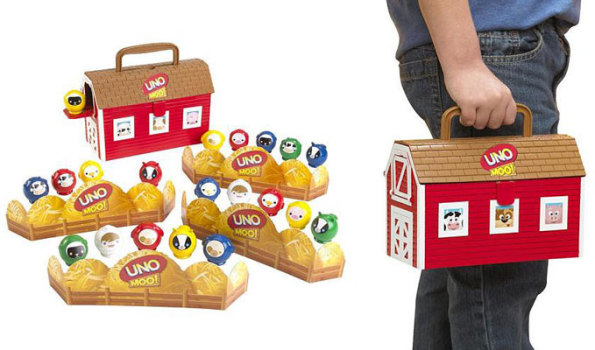 When it comes to Christmas shopping, I always add board games to my list. They are a great way to spend some quality family time together without boring the kids... or the husband. Right now Amazon.ca has a fun little board game on sale for those of you who have kids preschool age. Uno Moo by Mattel was $19.99 but is now just $14.96, and  considering other Canadian retailers sell this game for around $30 I would consider this quite a deal. Spend $25 at Amazon.ca to get free shipping.
Uno Moo is a preschool game, which makes it fun for parents with toddlers and kids in preschool. There are surprisingly not that many board games available for that age range, so I am happy to have found this one. My son will be three in February and this will make a great addition to the gifts we wrap up and put under the Christmas tree this year. I would snag it now if you are interested. This is a Lightning Deal from Amazon.ca, which means it expires tonight at midnight or when the deal is 100% claimed. Right now the deal is only 7% claimed because it is quite early in the day, but that will change quickly. Plus, you won't get it for the low price of $14.96 anywhere else in Canada right now.
Just take a look at what other Canadian retailers have this item listed for:
$29.99 @ Sears.ca
$22.97 @ Walmart.ca
This game is also easy to pack up and take with you wherever you go, so if you are looking for something to entertain your kids while you are at your in-laws or something then this might be it. Easy to pack up for travel also means easy to pack up for storage too. In the long run that will mean less lost pieces, and we all know how notorious kids are for losing pieces.
Since this item is shipped and sold by Amazon.ca, you will need to spend $25 to get free shipping. That won't be hard to do though, just snag two of these UNO Moo games so you can keep one for your family and give one to a friend's family, or check out their other deals selection.
(Expiry: 4th December 2015)