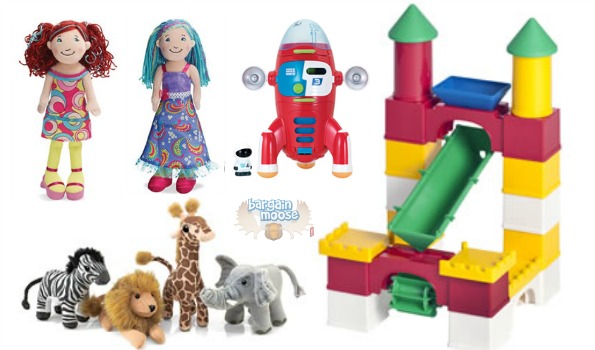 Mastermind Toys has a great warehouse sale right now where you can save up to 60% off a large selection of toys. If you are looking for educational, interactive, or creative play toys then you need to check out this sale.
I love a good toy sale. It is even better when the toys are nice quality toys that inspire lots of creative play in my kid. The discounts do not generally go this high at Mastermind Toys, we usually see closer to 40% off when they are having a sale. Seeing discounts up to 50% and 60% off is amazing.
I would start by considering the Beep Beep Rocket. This interactive rocket was $54.95 but is now only $21.98. I have seen this toy before. It is a super cute playset, which includes a large rocket, an astronaut and a space vehicle. The astronaut can head into the laboratory to conduct experiments or go down into the hold.  The rocket comes complete with sounds and lights that countdown to blast off. I can see a little kid having a lot of fun flying this rocket around.
Have you ever been in a store at a museum or zoo and saw animal puppets in the gift store that are amazingly realistic for a plush toy? Having worked in several museums in the past, I can almost guarantee it was a Folkmanis brand puppet. Folkmanis is one of the leaders in educational puppets. Check out the Folkmanis African Set of 4 Mini Finger Puppets. These puppets were $31.99 but are now only $12.80. You could stash these in your purse for your next trip to the zoo, and you have already purchased your souvenir. These quality and lifelike puppets will get a lot of play time.
Brooke mentioned to me that her son loves playing with the AquaPlay Sand and Water Castle 372 Set. This set was $49.99, but you can grab it now for $20. This is the perfect set to throw in the sandbox or sand and water table. Your kid will have hours of fun too stacking the pieces, pouring water down the ramp, or molding their own sandcastle from the pieces. This is a great construction set for outdoor play.
Another great buy is the Groovy Girl Dolls. These soft dolls were $19.99 but are now marked down to $9.99 each. There is five styles of dolls to choose between, plus a few accessories on sale. I have bought Groovy Girl Dolls several times as birthday gifts, and they are always favourites. The dolls are soft bodied and each has quite a bit of style. Pick up a few so they have friends for your next tea party.
You will receive up to a $15 shipping credit automatically at Mastermind Toys if you spend over $60.  If you spend under $60, standard shipping will vary based on the item you buy and your location. Use the shipping calculator to see the fee for your location. I put a few items in my cart and shipping was $7.28 to Quebec.
Grab your favourite toys now! Educational and well-made toys tend to go on sale much less often than other toys. Now is the time to pounce and stash away toys for that next birthday, or just treat your favourite kid`.
(Expiry: 24th May 2015)