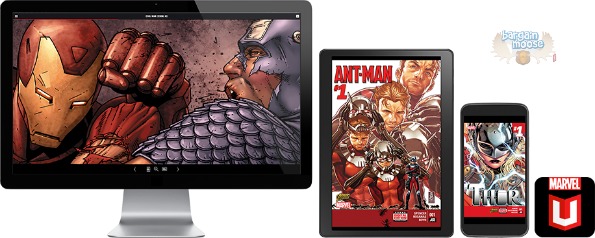 Marvel Unlimited cost $9.99 per month on a month-to-month subscription basis. In honour of San Diego Comic Convention, Marvel Unlimited is offering your first month subscription for just 1 cent after promo code.
Click here to subscribe to Marvel Unlimited now
Coupon Code: PENNY
Discount: 1 cent for 1 month
Expiry: 20th July 2015
I have mentioned the Marvel Unlimited database before but let us go over the basics again in case you are new here. Marvel Unlimited is a database stocked full of more Marvel comics than you can imagine. Over 177,000 comics are in their database and available for subscribers to read - unlimited - at their leisure. Eligibility as follows:
Offer is open to new and former (now-cancelled) Marvel Unlimited members. Offer not valid on gift subscriptions, Annual or Annual Plus memberships.

A subscription costs $9.99 on a monthly basis but is far more affordable (like half that price nearly) on a yearly subscription basis. For a short term subscription, the cost of a month or two won't hurt. In fact, this promotion is a great way to try out the database for yourself before committing to a long term subscription.
My fellow blogger Anna has the Marvel subscription and just loves it. She can download comics for viewing when not connected to the Wi-Fi. When connected to Wi-Fi, she has unlimited access to all the comics she loves and new comics she is going to love. The database is always growing so there will be new stuff to read if you ever manage to get through the old stuff.
Enjoy your comics across all devices. You can access your Marvel Unlimited subscription from your tablet, laptop, android, and iPhone. This subscription also makes an amazing gift for your comic loving friends. I know several people who would probably die of shock if I bought them a Marvel Unlimited subscription.
Do note, that your subscription requires a credit card and the subscription will auto-renew after your first month. If you do not want to pay $9.99 per month, then make sure to cancel your subscription before the renewal date.