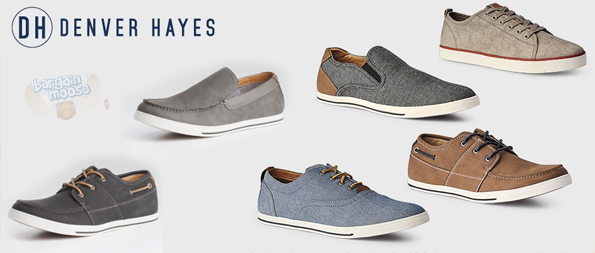 Over on the online store for Marks Work Wearhouse Canada, there's a great deal on their mens' Denver Hayes casual shoes. If you buy any pair, you can choose a second pair, of equal or lesser value, totally for free! And on top of that, there's also a coupon code for an extra $10 discount as you are spending $50 or more. And once more, on top of all that, you can also stack our exclusive coupon code for free shipping on a $50 spend too! When combined, this makes some excellent prices on these casual shoes from Marks Canada.
Here are the two coupon codes you will need to get the best deals:
CouponCode: MAYSAVINGSEC2015
Discount: $10 off $50
Expires: 31st May 2015
CouponCode: MOOSEFREESHIP
Discount: Free shipping on $50+
Expires: 31st May 2015
With the above Marks coupon code for $10 off, you can stack it on top of the BOGOF offer, so you'll see something like this in your shopping cart (screenshot below). Shipping is a flat-rate of $6.50, and you can apply our exclusive coupon code above and you will see the discounted amount at the last page of checkout like this:

As you can see, the ones I have tested out the deal on were the Bushwick low lace-up, originally priced at $79.99 each. After you apply the coupon, you can purchase each pair at a cost of only $35 each. That's a triple whammy of a discount! Now, it's not usual for coupon codes to be stackable in this fashion, so this could possibly be a glitch on Marks' end. If you want to take advantage, get in there really quick and place your order.
My partner is not very sensible with shoes. He wears one single pair, each and every day, until he wears holes in the soles. Then he buys a new pair, a few months later. In the past, when he's found a pair of shoes he likes that are a good deal, he buys two pairs, not necessarily in different colours. Then, he's got the replacement pair in the wardrobe, ready to use when the first pair becomes unwearable. That's exactly what he could do with the above deal from Marks!!
There are only 18 pairs of shoes to choose from in this offer, but you can also see if the coupon stacking glitch applies to other items on site too. :)
(Shoes BOGOF deal expires 1st June 2015)