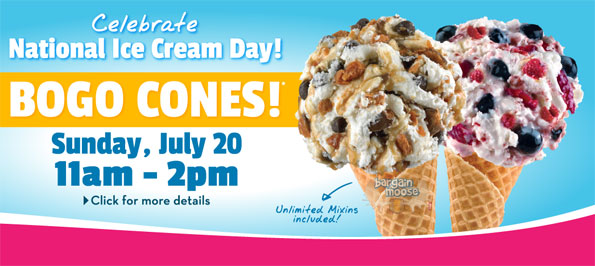 What do you have planned tomorrow? Whatever it is, you better make sure to swing by a Marble Slab store as well because they're hosting a BOGO event on all cones! Stop by any Marble Slab between 11am and 2pm on Sunday, July 20th 2014, to take advantage of a "buy one, get one free" deal on all ice cream cones.
Although it's a BOGO deal, this promotion only extends to the regular size for the free cone. This means that you need to get either a regular or larger sized ice cream cone in order to get a second one of regular size for free.
Marble Slab's promotion is actually in celebration of both Ice Cream Day and Ice Cream Month. As it turns out, President Reagan proclaimed the month of July to be national ice cream month with the third Sunday being national ice cream day and since Marble Slab was founded in Houston, Texas, this promotion makes total sense.
Although there are no Marble Slab stores where I live, I'm still super excited about Marble Slab's offer for all of you who can enjoy it, especially since it features unlimited mix-ins. I'm a huge fan of Dairy Queen and have been getting a chocolate extreme blizzard a little too frequently this summer but the charge for extra ingredients is definitely a big turn-off.
At Marble Slab though, you can choose among 20 different mixins to add to your ice cream cone like bananas, brownie bits, Butterfinger, chocolate chips, cookie dough, Oreo cookies, sparkles, etc. Heck, you can even add strawberries!
Be sure to also snap a picture of your cone and hashtag it #MSCHappyHour to be entered to win 1 of 2 $10 gift cards. It may not be the best contest prize ever but it's still better than nothing, especially since it's a super easy one to fulfill!
Be sure to sign up to get all of their coupons delivered straight to your inbox as soon as they are released. In fact, Marble Slab frequently makes coupons available for discounts on ice cream cones, ice cream cakes, smoothies and many others.
Moosers, what is your favourite flavour of ice cream at Marble Slab? And which mixins do you choose?
(Expiry: 20th July 2014)