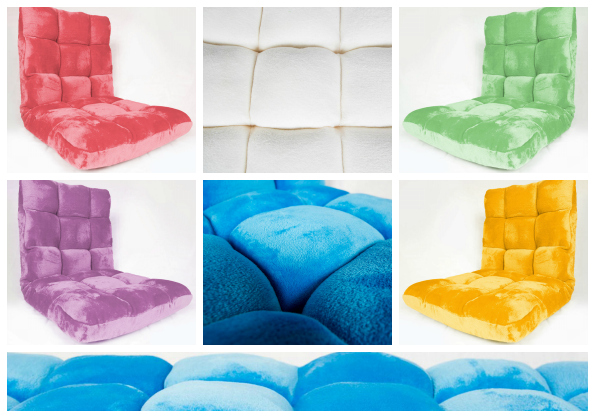 Maple Harbour has an up to 70% off sale going on right now and I spotted the awesome Fuzzy Fold Chair in the sale! The size small fuzzy fold chair is on sale from $149 down to $49. With our exclusive coupon code for 10% off - bargainmoose2015 - this chair comes down to $44.10. The large fuzzy fold chair is on sale from $159 down to just $59. After coupon, pay just $53.10. Even better, you receive free shipping on your entire order.
I feel a little loopy over these fuzzy folding chairs because they are so cute and useful! Each bean bag chair can be used in a lying position - flat on the floor like a bed - and in a sitting position. They come in 11 different colours so you can literally find a colour to match your decor if that is important. You can also buy your kids each a fuzzy fold chair in their favourite colour. Now, there are two sizes available:
Small: 39" x 16" x 5"
Large: 43" x 22" x 5"
There is also a $9 difference between the two sizes. Given that it is only a $9 difference - I would spring for the large size. Then again, I am an adult so I want lots of space. The small chair might just be the thing for a younger child.
Each fuzzy fold chair has an easily adjustable angle for the perfect seat. You can then fold it completely open to reset the angle back to a flat position. From the close up pictures, this really looks like a comfy chair with a quality microfiber cover that is removable for cleaning. There is nothing like grape juice all over your furniture to dampen your mood. With this chair, simply strip off the cover and toss it in the wash.
I want to talk about the colour selection a bit more. I am over the moon with the selection - I love purple myself but the lime green looks amazing - sort of like a mint - and the navy blue is awesome. If you are going for a more modern monochrome look - white is great for adults and black is a good standby.
These are bean bag chairs - not inflatable. I found them while looking at their selection of bean bag chairs that - while on sale - are not as substantially discounted as these ones. I could not wait to share these with you as bean bag chairs are super popular and you would be hard pressed to find one for less than this. Buy a couple for Christmas.
(Expiry: Unknown)