Ladies will be pleased to hear that Mac Cosmetics online store is offering free shipping right now, through to the 6th of June 2009. Normally, shipping costs about $7.50, so a nice little saving.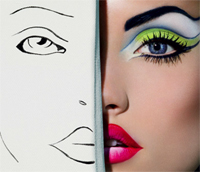 Of course if you want to, you can pick up the same items at the Mac Cosmetics counters at local department stores. But I love shopping from home, in the comfort of my computer chair. Sometimes I even shop naked. Can't do that In The Bay!
Mac Cosmetics CAN be costly, when you're talking $17+ for an eyeshadow. BUT in my experience, you pay for what you get. I've bought cheapie colors for a couple of bucks in the past… and they're OK, and last a little while. But I find they break quite easily at the slightest drop, and I have to trash them. I've also spent $10+ on a single eye color, and it has lasted for YEARS. Plus, the colors in the Mac Cosmetics range are gorgeous – to die for! Well, I wouldn't die for eyeshadow, but you know what I mean.