I don't know about the rest of you, but I can not walk past a LUSH store without taking a good, long smell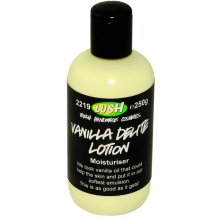 which in turn, makes me spend money!  So here is a great offer from Lush.  Place an order online and get a free bottle of Vanilla Delite Body Lotion!  Use code FREEVAN at the check out.  Valid July 17 - 24, while supplies last - so don't delay!
I tried this code with a $2.95 purchase and it accepted it so it doesn't look like there is a minimum purchase value.