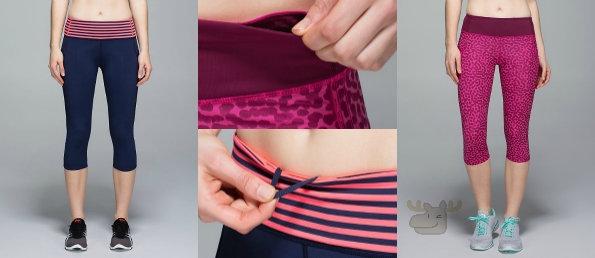 Lululemon Canada has a nice discount on a pair of crop pants. Usually the tops are more steeply discounted than the bottoms so I rarely see a pair of crops lower than $69 even on sale. I found these Run: Top Speed Crops on sale from $88 - $98 marked down to just $59. All Lululemon orders ship for free.
The difference in original price depends on the design as the ace spot jewelled magenta dashing purple/dashing purple was the more expensive ($98) and the second pattern - the deep navy/narrow bold stripe electric coral deep navy - was $88. The purple pair of crops is a better discount as it was originally priced higher, but I prefer the navy pair because they would match with more of my clothing.
Sizes 4, 6, 8, and 10 are still in stock between the two colour options.
These are designed to fit tight as they are for running. Thus, you will want to take your normal size - do not size down in these crops or you will find that they go sheer. The crops have a medium rise for ultimate comfort and a curved hem so you can move with ease. The fabric is smooth and low-friction to keep heat, chafing, and stress on the fabric down. Made with Luxtreme fabric, the crops stretch four ways and have sweat-wicking properties. Added Lycra helps the crops retain their shape.
One reviewer said:
Love these crops. They are super flattering as I am a curvy girl and the lux keeps you cool. Not really sure if I like the free flowing ventalization and slippery feel but I'm getting used it from being a luon lover. I love the pants, but try finding a top to match these babies that doesn't ride up while you're working out.
Reviews do vary with some women loving the crops and others having some difficulties with them. Either way, for under $60 I think this is a good buy for our Lululemon fans. The 'We Made Too Much' section was just recently restocked, thus there are plenty of great deals to be found.
(Expiry: Unknown)