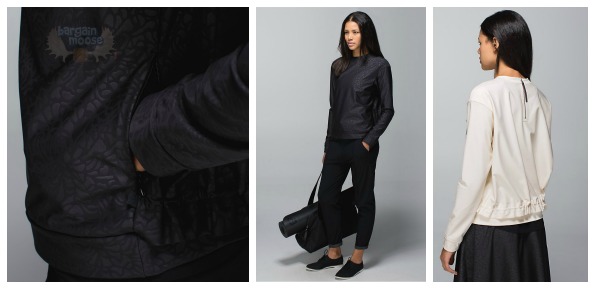 We rarely see phenomenal deals from Lululemon, but I would chalk this top up to one great sale price. Originally $118, the Departure top is on sale for only $49 with free shippingacross Canada.
This top is nearly 60% off, which is a rare high discount for Lululemon Canada. It is not often that an item is even 50% off in their store, let alone higher than that. The Departure top is currently available in petal camo embossed black or ghost. Sizes two through eight are available in the black while ghost has sizes two through 10. Both colours are sold out in size 12 already. I expect this item to sell out quickly because of the steep discounts.
This is a crew-neck sweater with loose fit and hidden back ventilation. It is designed as a before and after piece that takes you to and from your workout. Zipper pockets allow you to stick keys and valuables in your pockets without worrying about losing them.  It fits loosely and hits at about hip level.
There are not a lot of reviews, but the two currently on the website both give this top a four out of five star rating. Length seemed to be the biggest issue for tall girls. They recommended layering to get the desired look. In addition, a few girls have sized down in this, as it is quite loose. Here are a few comments:
The material is warm, water rolls right off the outer material, and the back and underarm ventilation is perfect for when you start to get heated. I am tall (5'10"), and this hits me just below the waist.
and...
Originally I tried my most typical LLL size of 4 and it was overly baggy and loose. I don't think my store had a 2 or else I was in a hurry but I went back to the store tonight and got it in a 2. It will be warm due to the thickness of the outer material which is fleece-backed and breathable, due to the mesh lining that covers the back. It's a touch on the short side so may not work for the taller set
Overall, this is a great piece for the price and a fantastic buy. While I know that Christmas is a ways away, this would certainly be in my budget to buy for a friend that wears Lululemon.
(Expiry: Unknown)