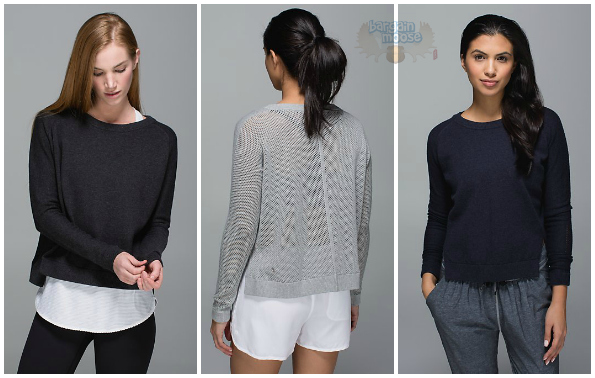 Lululemon recently restocked their 'We Made Too Much' section with plenty of great yoga tops and bottoms on sale. I thought this Bhakti Life Sweater would be a great addition to almost any wardrobe whether you are a yogi or not. Originally $118, the sweater is now on sale for $69 with free shipping.
There are a couple other reasons why I chose this sweater. First: there are four colours on sale: heathered medium grey, heathered naval blue, heathered black, and heathered white. The grey, black, and white currently have all sizes in stock from size 2 up to size 12. The blue is sold out in size 2, but it does have all the other sizes in stock as well. I really like deals that offer plenty of options because there is a better chance that I will find something I like in a size I wear.
There has only been one review so far, but the reviewer gave this sweater a perfect 5/5 star rating. She said:
I bought this sweater in blue and it is truly nice , soft and good quality sweater. I love the color on me, fits true to size ( I wear 6 , 127 pounds, 5'4). It is much nicer then the short sleeve version. Feels like and looks like a better quality sweater. the open hole knit in the back it is a very nice feature. Thinking to buy another one :-)
This is a loose fitting sweater made of soft primo cotton yarn that is naturally breathable. The open-hole knit back gives extra ventilation and will keep you cool after a morning run. As the sweater has a loose fit, it will layer easily over shirts, sports bras, and more. The cropped length that hips just around your natural hip shows off your layers.
Because of the loose knit, you will want to hand wash this sweater and lay it flat to dry. This is very common with knit fabrics as drying causes the yarn to contract (shrink) and hanging would stretch out the fabric. Despite requiring a little extra care when washing and drying, this sweater looks like the perfect no-fuss sweater to add to your wardrobe.
If you are not a fan of long sleeves, there is a short sleeve version as well (without the funky back). The Bhakti Reality Short Sleeve was $68 and is now $39.
(Expiry: Unknown)