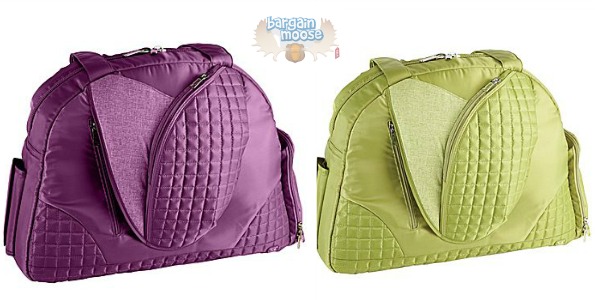 Staples.ca has a sweet little deal on the Lug 18" Cartwheel Fitness and Overnight Bag today. This cute little bag was $106 but is now only $53. This item also includes free shipping. Here at Bargainmoose, we always check deals over and over before they go out. Our other blogger Eva, did not get the $53 sale price, although the rest of the team did. If you have troubles as well, let us know in the comments below!
Need a new bag to carry everything? Check out the Lug 18" Fitness and Overnight Bag. You can choose between a plum purple and a grass green colour at the sale price. I am digging the plum colour. I have more than one sweater in that deeper purple colour. The grass green is a nice bright spring colour, maybe I should mix it up a little more.
I think what strikes me most about this bag is how versatile it can be. They call it a fitness bag and from poking around it seems people are happy using that bag to go to the gym. This bag comes with a special pocket designed to hold your yoga mat. It also comes with a holder for your water bottle and even an extra pocket designed just for your rings. I always try to take my rings off before I head into the pool to protect them from the chlorine, so I love this feature.
This Lug bag has lots of pockets and room to store several changes of clothes. As suggested, it would be a handy little weekend bag for a getaway with all that extra room. The bag is also a big enough size that it can be used as a diaper bag. It has lots of pockets, a big luggage handle strap and room for your water bottle. Sounds like the perfect diaper bag to me. Since the bag is particularly roomy, it might be a nice choice if you have supplies for multiple kids to tote.
Here is what I found when I checked out prices on this bag around the web.
You can see from the prices at the competitors that this bag is a steal today at Staples.ca. Save yourself a few bucks and grab this multi-use Lug bag now.
I could not find anyone on a well-known website that had reviewed this bag in Canada, so I popped over to Amazon in the US. Many people seem to be talking about this bag over the border. It has 25 reviews and an average rating of four and a half stars out of five. Here is one happy reviewer explaining what they like about this Lug bag.

Many of the items in the Staples Deals Centre are saying you have six or four days left to purchase the item. This Lug bag does not have that caveat. I suspect once the stock runs out of these bags, they are gone. If you like the bag, I would get it now while the deal is still on. Free shipping also comes with this deal.
(Expiry: Unknown)