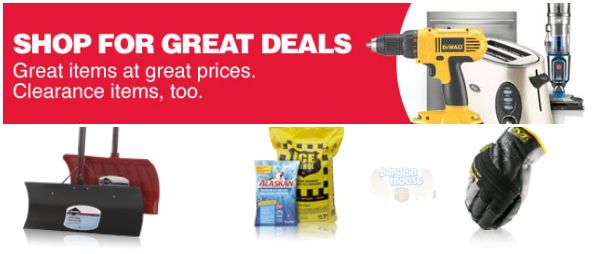 Lowe's Canada is offering $10 off orders of $100 or more online. With the clearance section full of deals up to 75% off, this is a nice bonus offer.
Click here to shop @ Lowes.ca now
Coupon Code: SS10
Discount: $10 off $100
Expiry: 11th February 2015
We have seen a coupon of this value once before from Lowe's Canada, and they also tend to have a 5% off $100 coupon every few months. Out of the two coupons, $10 off $100 is better.
The clearance section at Lowe's is ripe with deals. I found an excellent sale on bathroom / hallway mirrors that will have you drooling. This Style Selections 30-in H x 24-in W Vancleaf Cherry Rectangular Bathroom Mirror was $99.99, and is now on sale $25. You save $74.99 off the original price. There are many other mirrors on clearance for 75% off right now, but most are out of stock already. However, this Style Selections 34-1/2-in H x 28-1/2-in W Liberton Cocoa Rectangular Bathroom Mirror is also still in stock. Originally $99.99, the mirror is on sale for $25. Unfortunately, neither of these mirrors qualifies for parcel shipping. They either require Lowe's Truck delivery or you can pick up in store for free. I highly recommend the second option. With the above coupon code, you could purchase four mirrors for $90. Availability depends on your local store.
In the lighting section, I found the Harbor Breeze 52-in Barasway Bay Brushed Nickel Indoor Ceiling Fan with Light Kit and Remote Control on sale. Originally $229, the fan and light combo is on clearance for $179. After coupon code, pay just $169. This fan qualifies for parcel shipping so you will receive free shipping to your home. The last reviewer said:
I really am happy with this fan/light. The remote control is wonderful and it is very quite when fan is on. Easy to install.
Other reviewers thought that the fan's remote control could be a bit better. Sometimes changing settings required multiple button pushing until the unit responded. One reviewer also thought that the unit hung a bit low, but neither of the other reviewers mentioned that issue.
Shop the entire clearance section to combine discounted prices with the $10 off $100 coupon code from Lowe's Canada.
There has been a recent change to Lowe's shipping policy. Lowe's now offers free parcel shipping on eligible orders of $49 or more. There used to be no minimum to qualify for parcel shipping, but with rising postal costs this was an inevitable move.
For this and any future Lowe's Canada coupon codes, please visit our forum full of deals!