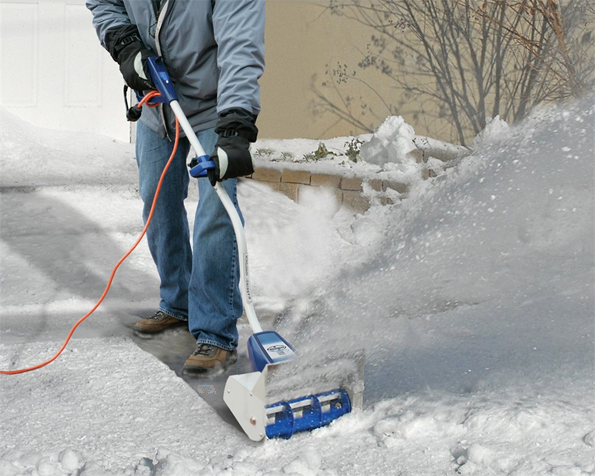 If you want to start preparing for the impending snow falls that we'll be getting within the next month or so, then you should consider checking out today's deal at Lowes. Their Snow Joe 12-in 7.5 Amp Electric Snow Shovel, which normally retails for $99.99, is now on sale for $49.99! Your order will also qualify for free shipping, which definitely makes this deal that much more appealing! Also, if you sign up for their emails (you can input your email in the link below near the top of the page, where it says "get savings & ideas by email"), you can also get an extra $10 off your order (they'll send a coupon code to your address), so you can effectively pay $39.99 for this electric snow shovel!
This Snow Joe 12-in 7.5 Amp Electric Snow Shovel has some great features. According to the description on the Lowes website, this electric snow shovel requires effortless maintenance, it has a nice ergonomic design and an adjustable handle, it's made of high-grade parts so it's built to last, and it's endured some rigorous quality control tests to ensure that it performs well. Best of all, it uses electricity instead of gas, so you can use this quickly and easily.
You can effectively remove snow from patios, decks, steps, and sidewalks with this Snow Joe 12-in 7.5 Amp Electric Snow Shovel. Personally, I've never used an electric snow shovel before (I've always used a basic shovel to clean my driveway, which can be tedious but it gets the job done). However, this product looks pretty sweet, and I'm going to recommend it to my parents, since it's getting tougher for them to shovel the driveway at their age.
If you were to purchase this Snow Joe 12-in 7.5 Amp Electric Snow Shovel at WalMart, it would cost you $89. I've included a brief review of this electric snow shovel from a satisfied WalMart customer below:
It does exactly what we bought it for [for half the price the previous one we had].  Even does the snowplough pile up at the end of the driveway. Great for walkways, porches, dog runs... easy to handle and very light to move.
Happy Halloween, my fellow Bargainmoosers!
(Expiry: 9th November 2014)