50% off Halloween Decorations @ Lowe's Canada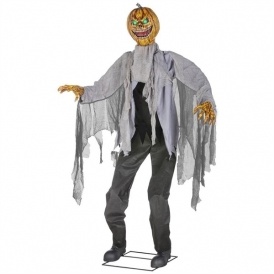 If you're like me and have left getting your Halloween decor until the last minute, you're in luck - all decorations for the day are now 50% off at Lowe's!
From regular decor to inflatables, lightshow projectors and animatronics, with this sale you can keep it small (and save big) or go all out and have the most spooktacular house on the block for half the price. Sounds like a win-win to me!
While we normally go for the non-scary Halloween decor, I just had to check out the animatronics. And this 6-ft Animated Pumpkin Reaper with Lighted Green Eyes would make a great addition to a haunted house or party, especially now that it's $114.50 instead of $229.
Switching to their lighting section, it's fun to see the variety of lightshow projectors available for the occasion. I know these have been gaining in popularity for Christmas, but now Halloween is getting in on the action too. For easy but awesome decorating, check out the Gemmy Chilling Shadow Waves Projector that's now only $12.50.
While I don't think this sale is going away anytime soon, I'd shop now to ensure you have everything in time to decorate - no more procrastinating!
Lowe's offers free parcel shipping on orders over $49.