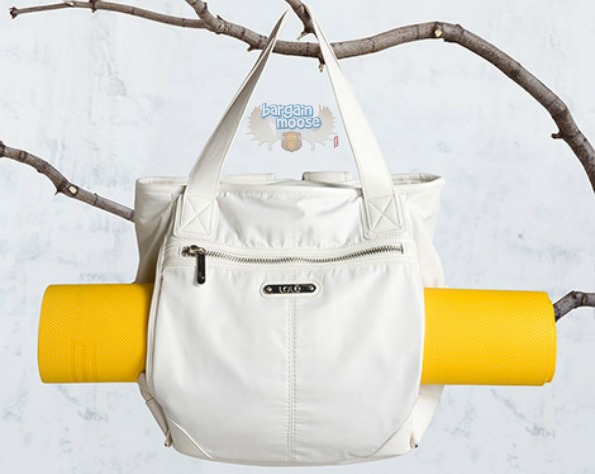 If you see people wearing Lole items out in public, you really take notice. The other day I saw a woman wearing this gorgeous jacket only to realize it was Lole. The same is going to happen with their bags - people take notice because they are gorgeous. This Lily Bag is large, practical and very stylish. Regularly $200, it is on sale for $120, but you can also add the coupon codeLC1572 to get another 20% off. This brings your total down to just $96, essentially getting you more than 50% off. Lole always offers free shipping as well.
This bag comes in windsor wine (essentially burgundy) or chalk (white). I love the white, as it is more versatile, but the windsor wine is also a nice colour to have in your wardrobe, which stands out from all your black and white bags.
Made of faux leather, this bag is full of surprises. It has a laptop pocket, yoga mat compartment, a detachable cosmetic bag, shoe bag, smartphone pocket, keychain and you can convert it to use it as a backpack!
You can use this bag for a trip to the gym or yoga studio, as an overnight bag or as your day-to-day bag. Some women like to travel with everything they might need for the entire day and this bag will give you that option. What more do you need than your wallet, keys, shoes, yoga mat, makeup and your tech devices?
I priced this bag at other online retailers and while most of them were sold out of this bag, a few had it in stock at a price much more than what Lole is selling it. Most of these stores were also American, which means heavy shipping and duty charges as well. Amazon.com sells this bag in varying colours that actually don't look as nice to me from $82 to $221 plus shipping and duty.
Looking for reviews, I found one from the Globe and Mail from a reporter who uses this bag for travel and gave it a thumb's up:
Compared with the wheelie bags most travellers carry on board, Lolë's Nina and Lily carry-alls are positively diminutive, and I never felt like I hadn't packed enough clothes. On the crowded flight home, when testy Vancouver gate attendants repeatedly urged those waiting to board to check our carry-ons, my enormous "purse," aka Lily tote, didn't get the stink eye.
(Expiry: Unknown)