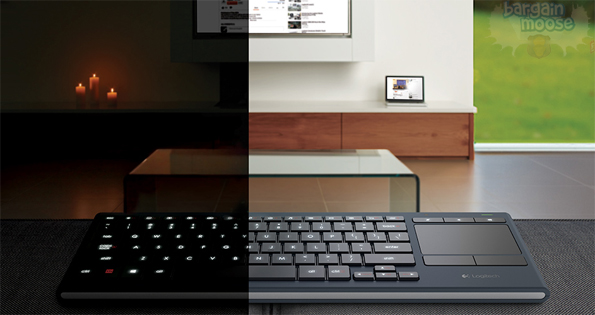 Right now, DirectCanada.com has a great price on this Logitech K830 Illuminated Keyboard. Regularly priced at $99.99, you can pick it up for only $74.13 as well as free shipping to your home!
As I write this post, the online stock says that there are 50 keyboards available, so if you're interested, get in fast. They could sell out at any time.
Price Comparing
On Logitech's own site, this keyboard is $99.99 with free shipping. The image I am using above is from the Logitech site, and they refer to this keyboard as a "living room keyboard." There is a full explanation of all the keyboard's features on there, and it looks like a really handy device.
As for prices elsewhere, everyone else seems to be around the $100 mark too, such as at BestBuy, FutureShop and NCIX. The closest price I can see is from Hookbag.ca where it is priced at $83.98 but there would be shipping on top of that. The price from DirectCanada is great, especially as you get free shipping too.
Reviewing
I personally have an almost identical version of this Logitech keyboard, the only difference being that mine does not have the trackpad on the right hand side. When I purchased my Logitech keyboard, I thought that the backlight on the keys was kind of gimmicky, but I've been surprised at how much I've gotten used to the feature. It's especially useful in the evenings when it is starting to get dull in the room and I've not quite gotten round to turning on all the lights… the backlit keyboard comes in very handy.
You can read a full and comprehensive review of the K830 here on Gizmag where they talk about many of those features. Here's a quick excerpt:
I found the keyboard to be a bit small for my taste, but this also isn't the kind of keyboard you'd be typing, say, long dissertations on. It's designed to be a home entertainment companion first and foremost – and I think it's great for that.
This pretty much sums up the reviewers feelings, and it's perfect if you need an entertainment device.
(Expiry unknown)