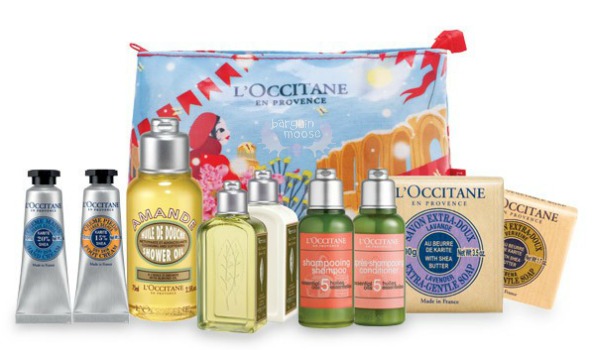 L'Occitane just started their beauty break sale and it is on until noon tomorrow EST. Get up to 50% off select products.
Looking through the sale, I see a number of products that are 50% off, which is great. My pet peeve is a sale advertising an up to amount and having only one product on sale at that high of a discount.
If you are looking for a gift set, the limited edition exclusive sets are all 30% off and make awesome Christmas gifts for anyone who deserves a little bit of luxury in the form of beauty products.
The Memoirs of a Hand Cream collection is only available online and I would love to be gifted this. I am thinking of getting it for my mom and aunt for their upcoming birthdays this month. Every woman (and man) could use hand cream, especially during the dry indoor winters. Because it holds so much, it is regularly priced at $96, but it is on sale right now for only $67.20. The shea butter hand cream is their #1 best seller and you'll get eight 30mL bottles in varying scents.
I actually know a few people who have the Bonne Mere creamy hand wash in their bathrooms. I'm not sure I would place mine there as the kids would waste it right down the sink, but I could hide it under the sink in my ensuite. Regularly $22, get it for only $11. Get ready for those holiday guests who will be using your bathroom this season.
Since you're already shopping this sale, you might want to know about the holiday bonus L'Occitane currently has going on. Spend $45 and input the coupon codeHOLIDAY14 at checkout to get the Holiday Essentials gift pack for only $23. It looks chock full of good stuff that you can keep or give as a gift, and it is well worth over $23.
As for shipping, there are two promo codes available to get you free shipping, depending on your spend. Check out the forum to get the codes. You'll also get free samples and gift wrap with every order.