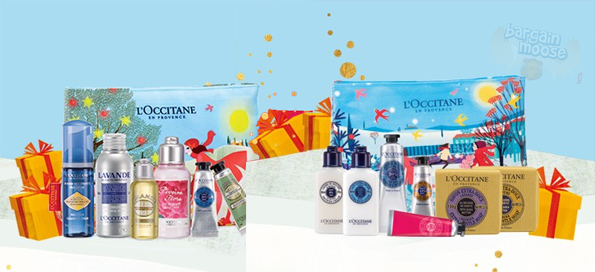 Just now at L'Occitane Canada post-Black Friday, there are a number of pretty decent deals, offers and coupon codes, and a number of them will STACK together to combine for even greater offers - potentially saving you over 50% off the regular price of their products!
First of all, here are the various L'Occitane coupon codes which you can choose to apply to your order, depending on how much you are spending.
CouponCode: BLACK
Discount: Spend $45+ & get Everything You Need set for $55 (value $114.50)
Expires: 30th November 2014
CouponCode: FRIDAY
Discount: Spend $45+ & get Provencal gift set for only $15 (potential $54 value)
Expires: 30th November 2014
The FRIDAY and HOLIDAY14 codes aren't stackable, you'd have to choose one or the other with that offer. The Shea Pampering Treat with the FRIDAY code is worth more, you may want to choose it.
On top of the coupon codes above, you can then add THREE free samples to your shopping cart. These samples are only little sachets of their products, but they're great to try out. And they're actually great to pop in your purse if you're travelling or away for a weekend, they're a very handy size. You can choose from items such as the Shea Fabulous Serum, the Aromacho shampoo or conditioner, or the Immortelle brightening cream.
Next, you can get free shipping on any spend of $49 or more. As L'Occitane is a luxury cosmetics brand, your cart is likely to reach that minimum anyway!
You will also be able to claim a free gift wrapping kit which inlcudes a box, tissue paper, ribbon and a blank note.
And lastly, if you want to buy anything in their stocking stuffers section, you can get a buy 2 get 1 free offer on these items. This works on TOP of all the aforementioned deals! As far as I can see, you can only make use of this offer one time – it works on 3 stocking stuffers but doesn't stack up when you have 6 in your cart.
Here's my tip – experiment with what you have in your cart and the coupon code combo to maximise your discounts. As you can see from the screenshot below, this order contains $132 worth of items for $67 with free shipping – super discount!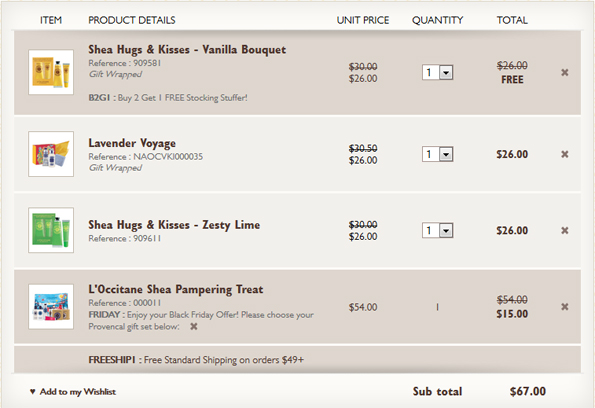 If you're willing to spend quite a bit more to get those higher value gifts with purchase, here's the type of thing you can achieve: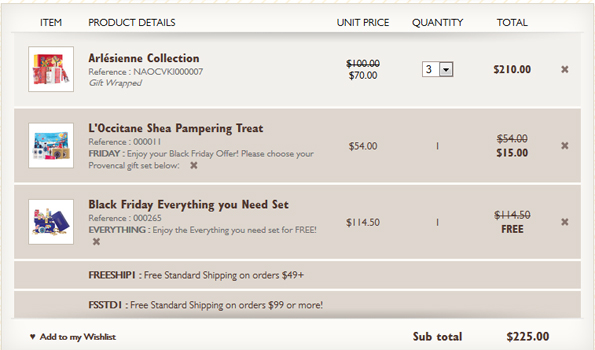 That is $468.50 worth of products for only $225 - more than 50% off!
I am actually kicking myself right now, because I placed an order from L'Occitane last week and I can't take advantage of this new offer today. I still got a good deal with free shipping and used a coupon code for a free gift with purchase, but it wasn't quite as good as all the offers stacked above. I made the L'Occitane order for a Christmas gift which is for a Secret Santa pressie in our family. It's for my sister-in-law and she's going to LOVE all the goodies I got for her!
I've taken them out of the box and had a sniff myself… I must inspect the merchandise before gifting! I ordered her a set of this Delicate Cherry Blossom collection which is actually on offer right now, down from $101.50 to only $70. That item alone would qualify you to then use the FRIDAY coupon code above to get the $30 gift for $15. I was concerned that the cherry scent on these would be too overpowering but it's not, it's fairly subtle.
Anyone taking advantage of this super deal and placing an order?
(Expiry: Various)