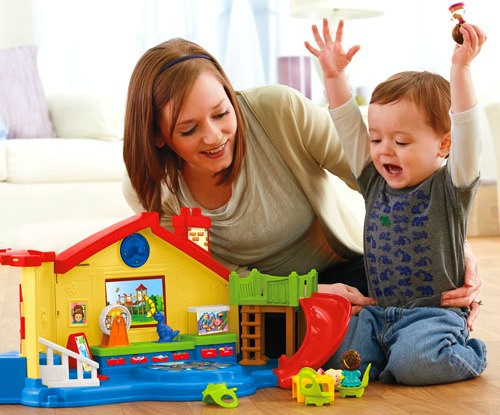 Every kid needs to grow up playing with the Little People Musical Preschool as a toddler - don't they? You probably remember a similar version from when you were a kid even. Now the Little People Musical Preschool toy is on clearance at Walmart.ca. While the last price was already a reasonable amount at $17.47, now you won't even think twice about snagging this item for a low $12. There are a variety of shipping options available as well.
Now your little one will be experience the fun of preschool right at their fingertips. Fisher Price has brought the preschool fun to life with their Little People Musical Preschool toy which will cost you just $12 if you act fast and snag it while you can from Walmart.ca. You really can't beat that low price either. Amazon Canada has this very same item listed for $40.55 and Sears.ca has this toy listed for $54.99.
This Fisher Price Little People Musical Preschool Toy does require batteries, but don't worry the first set is included. With over 35 different phrases, songs and sounds you will be glad it comes with batteries. Little People toys truly are quality items. Just earlier today my almost three year old was playing with a Little People Farm Play Set that we received as a hand me down from my mom. That toy set belonged to my little brother over 15 years ago and everything still works - including the sounds and songs. Who would have thought that a $12 toy like this would last generations.
This particular Little People set has a few reviews on Walmart.ca, leaving it a 4 star rating. The only complain I could see in the reviews was that the set comes with 4 chairs and only 3 people. Like seriously people, that's your complaint? There are probably 4 chairs so you can mingle characters from other play sets into this one. That just makes sense! Either way, here is a fabulous toy that any toddler would love for Christmas, for just $12.
When it comes to shipping, your best bet is to get some more Christmas shopping done in the clearance section and spend $50 to get totally free shipping right to your front door. Otherwise you can have your item shipped to your closest Canada Post Office for free. If your local Walmart Canada store has the Grab & Go lockers then that is a free option as well and then you can just pick up your offer at your closest Walmart store.
(Expiry: Unknown)