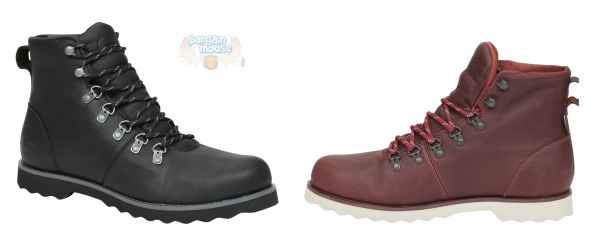 Little Burgundy has 50% off North Face Merthyr lace up boots right now. Originally $180, these hard working boots are on sale for $90. As Little Burgundy offers free shipping on orders of $75 or more, these boots will ship for free.
I was not sure of the original name of the boots so it was going to be very hard to price compare. Thankfully, Google image search exists. These boots are actually called Men's Ballard II Boots by North Face. This version is last season, but the updated Ballard II Chakka version costs $159.99 on North Face's Canadian website. I found the same boots Little Burgundy has, but North Face no longer sells them. However, there were some very nice reviews of the boots including this one:
The quality of this boot is superb! I ordered online with not having seen this not in person and was blown away by the quality of the leather and how comfortable they are. This is a must buy for someone looking for a high quality casual winter boot.
Other reviewers mentioned that the boots are not 100% waterproof, but they are pretty close (other reviewers argue they are waterproof). Most reviewers said the boots were lightweight, durable, and looked really good as well.
Now, Little Burgundy is selling these boots at a discount in two colours: brown leather and black leather. There are several sizes still available:
Brown: 12
Black Leather: 7, 9.5, 10, 12, 13
I do not know why the brown is nearly sold out, as I prefer the black leather. The brown does have a funky white sole, perhaps that is the appeal.
The inside of these boots is lined with wool felt with Thinsulate Insulation ling for warmth during the winter months. According to reviewers, the lace-up boots come with two different coloured laces. If you wear one pair out, then you can switch up and make your boot look a little different too. The built in pull-tab will help you slide into these boots with ease. The rubber out-sole gives you good traction on bad weather.
While winter is receding, this is a good time to pick up a pair of winter boots for next near. If you live in Edmonton, these boots will still get good use after that dump of snow you guys just had.
(Expiry: Unknown)