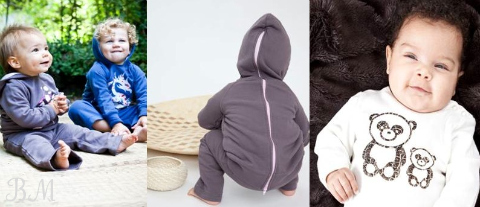 Little Bambino is such a nifty Canadian site for baby clothing. They use a mixture of bamboo and organic cotton to create ultra-soft fabrics for your children, and they have designed clothes with the zipper in the back! Right now they are offering 40% off everything to celebrate their first anniversary!
Now why is a zipper in the back so cool? It is easier for parents, you don't have to bend the kid's arms backwards for dressing and undressing.. your toddler can't strip at the wrong moments and it reduces zipper bite and poking their soft skin!
I love the little asian lanterns top and bottom you can get. Regularly the top would cost you $50 and the bottoms $25, which would add up to $75, a pretty penny (but it is organic and eco-friendly, so worth it!). Right now the top is marked down to $30 and the bottoms to $18 so you can get the set for only $48! What a deal.
They also have lovely little organic cotton and bamboo bodysuits, for only $18 each. :-) Asian animal themed and very cute. The fact their cotton is non-dyed I also really like.
No coupon needed, unknown expiry!