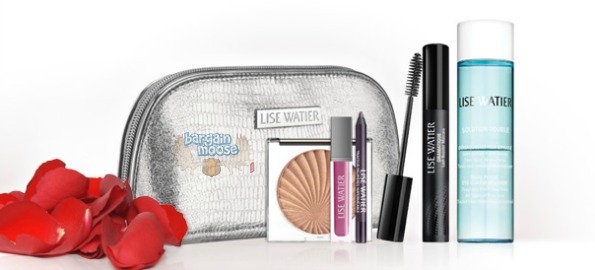 Shop at Lise Watier and you'll get an exclusive Valentine gift, plus free shipping, when you spend over $75. The free shipping on orders over $75 is the norm for Lise Watier, but the $100 gift is not.
This is the first time we've blogged about Lise Watier so I'll give you a little background. Little Lise was born in Montreal, where she developed her brand using innovative techniques to give you sophisticated and on trend makeup and skincare. I've used Lise Watier products before and while my pocketbook took a hit, I loved the quality of the product.
This deal is great because you only need to spend $75 on items you want to get a free gift worth $100. I don't know exactly what the gift is, but by doing a little research (on Facebook of course), I found out, it is everything in the banner picture. It looks like you'll get a mascara, liner, pressed powder, lip gloss and makeup remover, plus a case to keep it all in.
If you are looking for a Valentine's gift, the Sparkling Beauty set is perfect for that special night out. $39
I noticed on the front page of their site, they have how-to videos, which are perfect for anyone, even someone like me who has been applying makeup for over 25 years! As we age, we need to change how we apply our makeup and these videos look right on par.
(Expiry: 13th February 2014)