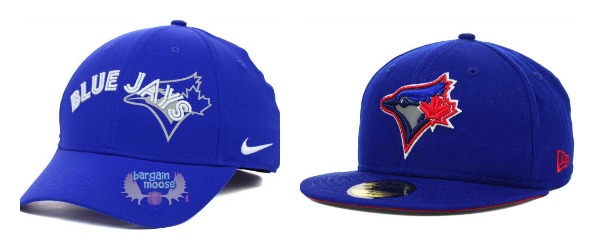 Let's go! Blue Jays! Let's. Play. Ball. No doubt if you live in Canada, you've heard this song a few times lately. The Blue Jays are on such a winning streak and so favoured to win the whole thing, I've heard that all of Canada is now claiming them as theirs. Sorry, they are the Toronto Blue Jays and that's it! With the bandwagon jumped on, I thought I would find some hot deals for all of those who don't have Blue Jay gear waiting in the closet for some glorious wins (myself included). Lids has a huge section of Toronto Blue Jays caps with a regular price of $44.99, now only $30 and luck be have it, they've got free shipping on $30 with coupon code FREESHIP9CA. Normally you'd have to get your total up to $60 or pay $10, so this sweetens up this deal nicely.
Last Friday it was Blue Jays day at my kid's school. I very luckily had a hand-me-down Blue Jays tee for my oldest to wear, but my younger sons had to wear just plain blue. I was disappointed in myself that I couldn't show their pride at school in their baseball team. The large majority of the kids had Blue Jays gear on, which surprised me. But, we aren't a very sporty family and I actually recently told my husband that one of the reasons I married him was because he didn't incessantly watch sports and he has been watching each and every Blue Jay game and driving me nuts.
Either way, I'd like to support our team and I know my kids love the sportsmanship that is going on with the Blue Jays winning streak. I vividly remember their two wins in the 90s as I had skipped a day of school to go down to the parade at what was then the Sky Dome. I actually almost got trampled by a mad crowd trying to break into the Sky Dome after they were full, so I definitely remember it. But, the excitement was there and if the least I can do is buy my hubby and kids and maybe myself a new cap, then that's what I'm going to do!
There are two styles at the $30 price point, down from $45, including:
The largest selection of caps were $44.99 and now $36, with many different colours like red, green, pink, orange, blue and more.
The cap I find that I like the most is this Nike reflective swooshflex cap, as it is the most traditional but also nicely fitting. Regularly $35.99, that one is only $24.
(Expiry: 9th October 2015)