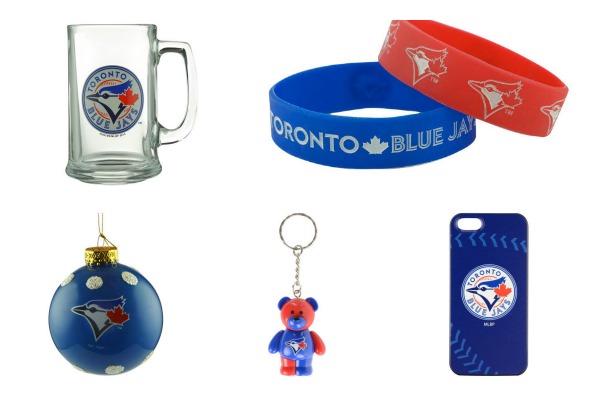 Who watched that game yesterday? Everyone, that's who!! I don't like sports and even I was on the edge of my seat! My kids who didn't care too much before now have Blue Jay fever and with fandom comes gift ideas for Christmas! Lids doesn't just sell hats, they have a huge selection of Blue Jay gift ideas, with everything from clothing to auto accessories and even bed and bath. Right now to celebrate the Blue Jays victory they've got a promo code - BLUEJAYSPLAY - that will get you free shipping on $40, rather than $60 on your Blue Jays merch purchase.
There are some really cool things available from Lids for your Blue Jay lover. Show your allegiance with this laser frame for your licence plate. Get one for both of your cars and you'll still have free shipping too. It is $25.99.
This 25oz Tervis water bottleis perfect for taking to the game and would make the best stocking stuffer because it is practical and just what they want. It is $35.99.
If you've got an iPhone5, take off your Otterbox and show your team spirit with this Toronto Blue Jays Coveroo. It is actually on sale, regularly $34.99, now $29.95.
My favourite thing by far and I'm adding a few to my cart are these glitter polka dot ornaments. Every year I get my husband and kids an ornament that kind of reflects what went on in the year. This year my husband has watched a lot of baseball and if they do win the series (or even if they don't), I want to reflect on those memories year after year. So, in 2016 when we pull out this Blue Jays ornament we can think of how exciting fall 2015 was. These are $12.
What I love about the idea of buying Blue Jay merchandise as stocking stuffers and gifts for Christmas is that I think they'll do great next year too and you'll already have the merchandise before everyone else gets on the bandwagon. Something to think about ;)
If you are just into the traditional caps and tops, I blogged just recently about the hot sales on caps and you can also use these towards your total for free shipping.
(Expiry: 31st October 2015)