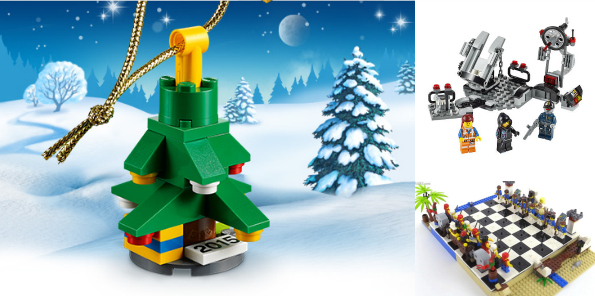 The LEGO Store actually has some pretty nice deals on right now. They are offering up to 50% off select LEGO with sets, badges, play mats, and more included in the sale. In addition, they are offering a Free Exclusive 2015 Ornament on orders of $50 or more when you are signed into your VIP account. You can register for a LEGO VIP account for free, so register now and get your awesome freebie.
The Exclusive Christmas 2015 Ornament is worth scoring just by itself, but it can be combined with some sale items as well. This LEGO Melting Room would be my top pick of the sale section. Originally $15.99, it is now on sale for $7.98 because it will be retired soon. For those who haven't seen the LEGO Movie - you will recognize this scene is a throwback to a certain James Bond movie.
For the LEGO Ninjago fan, pick up a clock for their bedside table. Both the LEGO NINJAGO Kai Minifigure Clock and the LEGO NINJAGO Zane Minifigure Clock are on sale from $29.99 down to $17.98 each.
Your child may have a budding LEGO collection, but do they have a mat to play on? If not, then one of these awesome play mats might just be the LEGO accessory they are looking for. All three of these playmats were $17.99 and are now $8.99 each:
Each mat is reversible with a different scene on each side so you - essentially - have two play mats in one.
There are also some larger sets you can score on sale as well. This 70147 Sir Fangar's Ice Fortress is on sale from $89.99 and is now on sale for $71.98. The same LEGO set is currently fill price - $89.99 - at Toys R Us Canada.
My favourite set would probably be this 40158 LEGO Pirates Chess Set because it is so wicked cool. Not only do you get to build your own chess board, you also get 32 playable pieces as well - probably one of the largest collections of LEGO figures in one place. Originally $74.99, it is on sale for $62.24 right now and still in stock. I think this would make a really nice Christmas gift and it alone qualifies for the free decoration when you are signed into your VIP account.
Receive free shipping on orders of $75 or more.
(Expiry: Unknown)