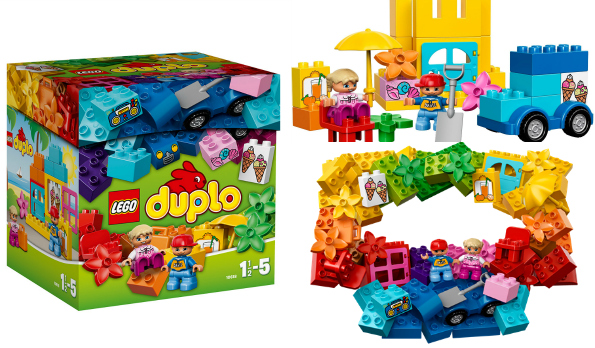 Is LEGO on your gift buying list this year? For younger kids, LEGO DUPLO is just the thing as the larger blocks are easier for smaller hands to manipulate. This Lego Duplo Creative Building Box (10618) is currently only $28 at Walmart Canada. You can get it delivered to your local Canada Post for free or pick it up at a Grab & Go locker.
This 70-piece LEGO DUPLO set comes with a whole bunch of fun blocks, mini-figures, and accessories. The box comes with two children LEGO DUPLO figures that can play with the accessories like a parasol, suitcase, chairs, and flowers. There are fun summer treats like ice-cream, orange juice, and a stereo for listening to music. Your child can build lots of things with the included box including a sand castle, ice-cream van, holiday house, and more.
Let us talk brass tax - or money that is. This building set comes with 70 pieces of LEGO DUPLO, making it the cheapest box of DUPLO per piece than any other boxes out there right now. The same Creative Building Box (10618) set is currently $54.87 fulfilled by Amazon (sold by Marketplace seller) and it retailed for €24,99 (Euros) = $35.72 CAN when I found it at LEGO itself.
I WAS going to blog a deal on the LEGO DUPLO Deluxe Box of fun (10580) (95 pieces) on sale from $60 down to $48 @ Amazon.ca but that deal seems silly now.
Comparison:
Creative Building Box (10618) - 70 pieces for $28 = 40 cents per piece
Deluxe Box of Fun (10580) - 95 pieces for $48 = 50.5 cents per piece
This 70-piece box from Walmart Canada is a good 10 cents cheaper per piece than the sale Deluxe Box of Fun I was going to blog on sale (20% off) at Amazon Canada. I am SO glad that I found this set.
I checked out a whole bunch of other box sets and all of them cost more than 40 cents per piece of LEGO DUPLO. Even the really good sale ones at Amazon Canada could just not complete with this box set at Walmart Canada.
I hope some lucky Moosers snap up this box set and give it to their wee ones for Christmas this year. This fun box full of LEGO DUPLO would look great under the tree.
(Expiry: Unknown)