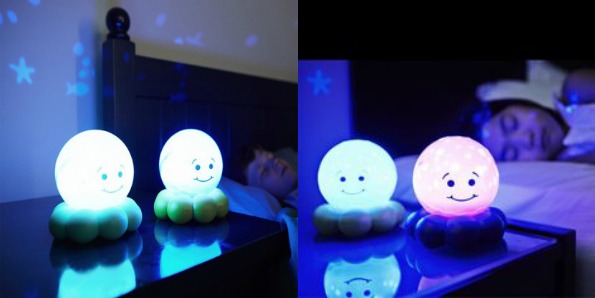 Last night, Brooke blogged this super cute bird nightlight. With it getting darker earlier and earlier, your kids probably need a little bit of extra light in their rooms at bedtime. I found a fantastic deal on a super cute night light that is durable, has auto shut-off, is portable and made by Cloud B - the experts in getting kids to sleep! Regularly $24.99, this night light is on sale for $16.99 right now at Learning Toys. They've got a coupon code - NEWSITE - that will get you another 15% discount on every order. This brings this night light down to just $14.44.
My youngest will absolutely not sleep without a night light. He actually has a few. The only thing I don't like about the ones he has is that they plug in and he's constantly plugging them in and out and I don't think that's super safe. This octo nightlight would be a perfect gift for him as it is not a toy (which he doesn't really need) but it will hold his interest.
Not only does this nightlight have a coloured light, it also has a fish blowing bubbles pattern that will show up on the walls. I think this is perfect for any age, but is a gift you can give to a new baby that will be used for many years.
I also love that it has auto shut off after 45 minutes, which you should hope that your child is asleep by this time. If not, just reset it and hope for the best really!
There are two nightlights - the blue one, which lets off a green or blue light and the pink one, which lets out a red or pink light.
I checked around and found this price is the hottest there is as Walmartsells it for $24.77, Snugglebugz sells it for $24.99 and so does Toys R Us.
Learning Toys offers free shipping on orders over $75, so take advantage of that 15% off coupon and get more gifts!
(Expiry: Unknown)