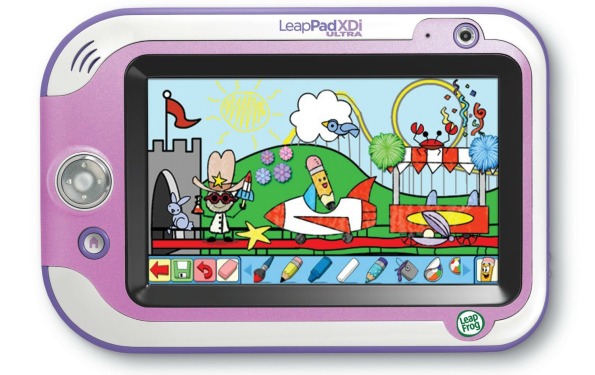 Christmas is fast approaching. Honestly the best gift my little one received last year was his LeapFrog Tablet. My mom bought him the LeapPad Ultra Learning Tablet and he quickly learned how to play games, watch his favourite TV show and so much more on his adorable (and sturdy) little green tablet. My mother paid around $120, but you are lucky enough that right now the LeapPad Ultra Learning Tablet in Pink is on clearance sale from $129 down to just $64. Shipping is even included since this item is over $50.
Unfortunately just the one colour (pink) is on sale when it comes to this LeapPad Ultra Learning Tablet. But if you have a little boy, he probably won't mind. You can also get cases and such to hide the pink if your son prefers green or blue. Either way, this LeapPad Ultra Learning Tablet in Pink from Walmart.ca is an absolutely amazing price right now. You are basically saving 50% off a hot electronic toy that will teach your kids and keep them entertained. Can you believe it will only cost you $64?
The LeapPad Ultra is designed for kids aged 4 through 9 years, although my 3 year old son has learned to use it very well. He has a bunch of Umi Zoomi and Cars themed games that have helped him learn to count and more. It has kid-safe wifi and an app store, so if we are on the road I can buy him a new game or series of TV shows that he loves to keep him occupied. This summer we did an 18 hour drive to New Brunswick and back and my son's LeapPad Ultra was a huge lifesaver for sure. Walmart Canada also has an unbeatable price, so it shouldn't take much to convince you to buy this fun and educational tablet for your little ones. This tablet has 85 reviews on Walmart.ca, so you may want to have a read of those before making the purchase.
When it comes to shipping from Walmart.ca, there are a few different options. Since your purchase is over $50 you will get free shipping directly to your home. If your purchase doesn't qualify for whatever reason, you can also opt to have it shipped to your closest Canada Post Office or Grab & Go Locker for totally free as well.
(Expiry: Unknown)