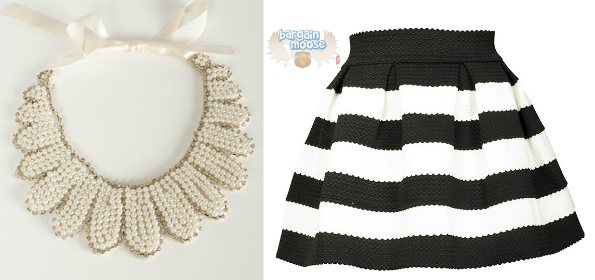 Mi amore, check out this beautiful poofy skirt from Le Caniche Noir. This black and white striped skirt was $79.99 but is now only $27. Le Caniche Noir offers free standard shipping with no minimum every day.
Spring and summer have to be just around the corner. I am ready for warm breezy days that I can free my legs and shoulders. I want to lounge by the pool in the daytime, and take walks with my hubby along the water on the weekends. With quite a bit of snow still on the ground, warm days seem too far away.
Just because the weather is cold does not mean my spring wardrobe is not already beginning to grow. A few thoughtful pieces in your closet can make a huge difference in quickly dressing up or down without much effort, and I like to snag them early. This Striped Poof Skirt with wide black and white stripes can quickly go from busy spring days to lazy summer strolls or even with you on vacation to some place warm and relaxing. Dress this skirt up with some cork wedges, a simple top and some glitzy jewelry for a look that is summertime chic. Dress this skirt down with a pair of flats and a floppy hat for a casual daytime or vacation look. Now I am imagining wearing this on a cruise vacation. No matter how you choose to style this skirt, this chic little number will become a favourite piece. This skirt is available in sizes small, medium and large.
Le Caniche Noir has lots of other chic looking pieces on sale. These pieces are not normally at my price point, but are some great prices in the sale section. If you need another skirt to mix things up, check out the Tribal Print Skirt in black and white. This skirt was $99.99 but you can have it now for only $31. This fun pattern would mix cheerily with a bright colored top in many different colours. This skirt comes in extra small, small, medium and large.
For a little treat to yourself, check out the beautiful white Pearl Petal Necklace that was $40 but is now only $14. This pearl statement necklace that is a modern twist on a more vintage piece is a great accessory that can be worn with multiple types of outfits. I could see easily wearing this in the daytime with the right look, but it could also just as easily find a place around your neck for date night. In the past when I worked in an office environment, I would have paired this necklace with a wrap dress and heels for a professional but still chic look.
Check out some of the other great steals in the sale section at Caniche Noire. If you like pieces that make a statement, they have some amazing options. Shipping is always free with no minimum. Even if you grab only an accessory, you are still grabbing a great unique piece at an awesome deal.
(Expiry: Unknown)